Work and Pensions, and Health prosecutors to join Crown Prosecution Service
From April, government lawyers specialising in benefit and health fraud will join the CPS.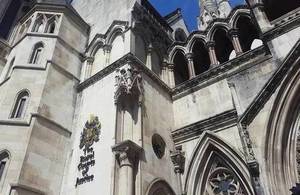 The Attorney General Dominic Grieve QC MP has agreed to transfer the conduct of prosecutions from the Department for Work and Pensions (DWP) and the Department of Health (DH) to the Crown Prosecution Service (CPS).
Currently DWP and DH prosecutions are both conducted by in-house prosecutions teams within the DWP and DH. Under the forthcoming change, the conduct of such prosecutions will be assigned to the Director of Public Prosecutions, Keir Starmer QC, under section 3(2)(g) of the Prosecution of Offences Act 1985.
The transfer will take place from 1 April 2012 and a Written Ministerial Statement has been laid before Parliament. Mr Grieve said:
The new arrangement will reinforce the drive to prosecute even more efficiently and effectively. It will safeguard the high quality work currently done by the DWP and DH prosecutions teams, in relation to benefit fraud for the DWP and specialist fraud work on behalf of the NHS and the Department of Health.
Published 20 March 2012