Press release
Worcester Class A drug dealer has sentence increased
After the Solicitor General's referral today, Wesley Usherwood has his sentence increased by 2 years and 9 months.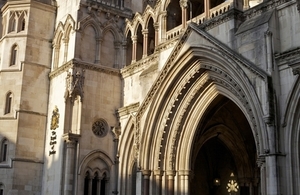 A man with history of drug offences has today had his latest sentence increased after the Solicitor General, Robert Buckland QC MP, referred it for being too low.
Wesley Usherwood, 20, was arrested in February as part of Operation Blade and found to be in possession of drugs with a street value of £18,000. It is estimated he was supplying £1,000 worth of heroin and cocaine a day in the Worcester area.
Usherwood has several previous convictions, and failed to complete the unpaid work, drug treatment, and rehabilitation requirements imposed after a previous conviction for a drugs offence in April 2017.
Usherwood was originally sentenced to 4 years imprisonment at Worcester Crown Court in March. Today, after the Solicitor General's reference, the Court of Appeal increased his sentence to 6 years 9 months in prison.
Speaking after the hearing, the Solicitor General said:
"Usherwood's extensive history of drug dealing will have destroyed the lives of many individuals, families, and communities. Crimes of this nature will not be tolerated and I am pleased to see his sentence has been increased."
Published 10 May 2018