News story
Women on Boards
Lord Davies has launched his independent review into Women on Boards.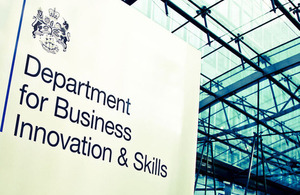 Women on Boards

Government welcomes Lord Davies report
Podcast
Quotes
Women on boards
Lord Davies has today launched his independent review into Women on Boards. (PDF, 1.9 Mb)
He recommends that UK listed companies in the FTSE 100 should be aiming for a minimum of 25% female board member representation by 2015. He has recommended in his report for government that FTSE 350 companies should be setting their own, challenging targets and expects that many will achieve a much higher figure than this minimum.
The report says that companies should set targets for 2013 and 2015 to ensure that more talented and gifted women can get into the top jobs in companies across the UK. Lord Davies also calls on chairmen to announce these goals in the next six months and Chief Executives to review the percentage of women they aim to have on their Executive Committees in 2013 and 2015.
As part of the report Lord Davies and his panel state that companies should fully disclose the number of women sitting on their boards and working in their organisations as a whole, to drive up the numbers of women with top jobs in business.
The report also recommends:
Investors should pay close attention to the recommendations from the report when considering re-appointments to a company board.
Companies should periodically advertise non-executive board positions to encourage greater diversity in applications.
Headhunting firms should draw up a voluntary code of practice addressing gender diversity in relation to board level appointments to FTSE 350 companies.
The Financial Reporting Council to amend the UK Corporate Governance Code to require listed companies to establish a policy concerning boardroom diversity. This should include how they would implement such a policy, and disclose annually a summary the progress made.
Lord Davies said;
"Over the past 25 years the number of women in full-time employment has increased by more than a third and there have been many steps towards gender equality in the workplace, with flexible working and the Equal Pay Act, however, there is still a long way to go. Currently 18 FTSE 100 companies have no female directors at all and nearly half of all FTSE 250 companies do not have a woman in the boardroom. Radical change is needed in the mindset of the business community if we are to implement the scale of change that is needed.
"This is not about aiming for a specific figure and is not just about promoting equal opportunities but it is about improving business performance. There is growing evidence to show that diverse boards are better boards, delivering financial out-performance and stock market growth.
"I have been pleased to see the huge amount of interest that this review has sparked both from individual businesses and industry groups. I hope that the recommendations I am announcing today will mark the beginning of a step-change so that more of our talented women get seats on our top boards."
Government welcomes Lord Davies report
Business Secretary Vince Cable said:
"I strongly welcome Lord Davies' report and am committed to promoting gender equality on the boards of UK listed companies. We will therefore seriously consider its recommendations.
"The report is clear that a business-led approach is the best way to increase the number of women on company boards, and we will therefore engage with business in considering his recommendations. Likewise we encourage regulators, investors and executive search firms to take forward those recommendations that fall to them."
Home Secretary and Minister for Women and Equality Theresa May said:
"Inclusive and diverse boards benefit from fresh perspectives, new ideas and broad experience. A company with a board that reflects the people it serves is better able to understand its customers, and there is growing evidence that companies with more women on their boards outperform their male-dominated rivals.
"Women make up more than half of the population, but account for just 12.5 per cent of FTSE 100 directors. Lord Davies' report is an important step forward in understanding why this is and what can be done about it, and I shall be considering his findings very carefully."
Podcast
Following a roundtable discussion at the FT with Lord Davies before the publication of his review into women on boards, the participants, including Anna Ford, Miles Templeman, Alison Carnwath, Julie Meyer and Julia Budd shared their thoughts on the recommendations.
To coincide with the publication of the independent review on Women on Boards on Thursday 24 February, Lord Davies held a press conference and took questions on his recommendations to the government. You can listen to the press conference in full below:
Women on Boards Lord Davies press conference by bisgovuk
Comments on the recommendations for women on boards
Financial Reporting Council Chairman Baroness Hogg said:
"The FRC believes that diversity at the board table can help to make boards more effective, for example by reducing the risk of 'group think'. The change we made to the Code last year has helped to trigger a significant change in attitude to the persistent failure of companies to appoint more women to boards, depriving themselves of the benefits of the full talent pool available to them."
"However, as Lord Davies says, progress remains slow, and so we will consult on whether to make further changes to the Code to encourage companies to report on their policies and ambitions in this respect".
**Stephen Alambritis, Commissioner at the Equality and Human Rights Commission, said: **
"At the current rate of change it will take 73 years for women to achieve equal representation on the boards of FTSE 100 companies. We need to speed up progress. This is not just a moral issue. Our businesses are paying a penalty; there is evidence that more diverse boards take better and more responsible decisions.
"Clearly, we agree with Lord Davies that business needs to put its house in order. We also agree that it would be better for companies to take action themselves without government having to impose quotas upon them. We do, however, need them to demonstrate real progress on this issue - and not just in relation to women but in terms of diversity of all kinds.
"The Commission will make this a priority for our investigations over the next two years. We hope that our work will show that companies are really taking action."
Roger Carr, Chairman of Centrica and Founder member of the 30% Club said:
"I welcome the recommendations made by Lord Davies on Board Room Diversity. Aspiration rather than legislation is the correct way forward, supported by the transparent reporting of intentions, actions and achievements. It is now up to business leaders to respond to the challenge by appointing women both on merit and in recognition of the material added value that gender balance brings to the boardroom."
John Peace, Chairman of Standard Chartered PLC said:
"Lord Davies' review addresses a very important topic. It is essential that women are able to succeed at all levels of an organisation, and companies should strive to create the opportunities for women to achieve their aspirations. This will in turn create a more diverse pool of leaders for appointment to boards."
###
Links
Published 24 February 2011