Wolfhound goes operational in Afghanistan
The six-wheeled Wolfhound joins Coyote and Husky as the biggest of the tactical support vehicle family. Defence Secretary Dr Liam Fox said:…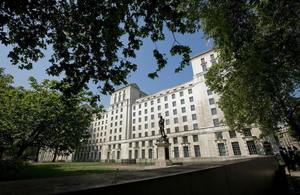 The six-wheeled Wolfhound joins Coyote and Husky as the biggest of the tactical support vehicle family.
Defence Secretary Dr Liam Fox said:
Wolfhound's deployment on the front line marks a significant milestone for the range of vehicles our troops have at their disposal. Carrying essential combat supplies such as food, water and ammunition, the tactical support vehicle fleet is providing vital support to troops on front line patrols.
Husky and Coyote have already proved to be great assets, and the further protection offered by Wolfhound demonstrates our ongoing commitment to ensuring our troops have the best equipment possible.
Wolfhound is fitted with a 7.62mm general purpose machine gun plus an array of electronic equipment including electronic countermeasures and tactical satellite navigation.
Chief of the General Staff, General Sir Peter Wall, said:
I'm delighted that Wolfhound is now operational. This highly protected transport vehicle is a critical addition to the range of vehicles available to commanders in Afghanistan and complements the Mastiff and Ridgback fleets very well.
We continue to develop our vehicle fleets in light of experience and the evolving threat. This is another important step down that path.
Wolfhound's combination of Mastiff protection and fire power with a flatbed for cargo is already being appreciated by the 2nd Royal Tank Regiment in Helmand. Sergeant David Roberts said:
We can carry extra food, water and ammunition to stay out on the ground for longer. We can also transport more of the lads' kit between checkpoints - all with the same fighting capability as Mastiff.
The Wolfhound's flatbed rear section can carry palletised loads or specialist user 'pods', thus making the vehicle capable of offering support to a variety of theatre users.
Although only the utility variant has so far been deployed, the military working dog variant is also on its way. Fitted to the load-carrying area of Wolfhound, a 'pod' has been developed to transport specialist military working dogs around theatre.
The pod combines base vehicle protection, secure kennelling, lighting and air-conditioning to create a dog-friendly environment, ensuring that these very special assets are always on hand to help troops defeat the threat from improvised explosive devices by seeking out buried devices or searching for components or explosives.
Production of 44 pods for military working dog, explosive ordnance disposal and counter-improvised explosive device teams' use is currently underway, with the first deliveries scheduled for early next year.
An initial order with Integrated Survivability Technologies for around 100 Wolfhounds was boosted by a further order of around 30 additional vehicles in June 2010. This brings the total value of the contract to £160m. Delivery to theatre is planned to be completed by Autumn 2011.
The MOD can also confirm the signature in July of a £36m contract with Navistar Defense for around 90 extra utility variant Husky vehicles, taking the total number to around 340 and the overall contract value to almost £220m.
Like Wolfhound, Husky comes equipped with a driver's night-vision system, and Husky's top-mounted machine gun and variable ride height provide troops with a flexible vehicle that is both highly protected and mobile.
Published 18 October 2010