Wish you were here? Travel advice and social media
How the Foreign Office is using the power of social media to help keep British travellers safe.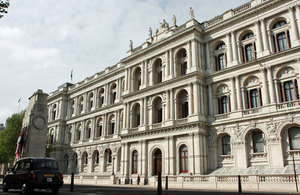 We want people to be aware of the issues that could affect them when they're travelling so that they can make informed decisions and avoid problems before they occur.
Travel advice on the Foreign Office website gives essential information for British travellers, highlighting risks and signposting useful information. We have travel advice for individual countries worldwide, and helpful tips on a wide range of travel issues. Our advice is updated around the clock in response to changing conditions, and we issue warnings when we believe there is a risk to travellers.
And now we're taking that advice across the web, into social media such as Facebook and Twitter, so that travellers who sign up as friends or followers can get the information they need on the sites they visit regularly.
Why our we doing this? Our staff handle around 2.1 million consular enquiries each year from Britons in difficulties abroad, from lost passports to bereavements. With increasing numbers of Britons travelling independently, going to remote destinations or looking for unusual or adventurous activities, many more are likely to need our help in future.
But we know that people don't always know where to go for advice, or sometimes don't feel the need to check before they travel. And visiting a government website isn't always a priority when you're planning your holiday.
Social media helps us to spread our travel safety messages, and to help travellers get in touch with our consular staff around the world.
In addition to our website, you can get the latest travel updates on our British abroad Facebook page and @britishabroad on Twitter. Many of our embassies and consulates also have their own Facebook pages, where you can find important local information or get in touch with our consular staff. Here are lists of all our Facebook pages and our Twitter accounts.
Why are we using social media? Because it has become central to the way people research, organise and book their travel, and one of the principal means to stay in touch with friends, family and colleagues when they are abroad.
With an estimated 30 million active users in the UK, social media such as Facebook and Twitter have become important and trusted sources of information for travellers. New generations of mobile phones allow access to social media on the move, providing a constant stream of updates.
During major travel incidents travel companies and media organisations as well as travellers now depend on social media to share the latest information on quickly-moving situations.
By sharing our travel advice in this way we believe that it will reach the people who need it more quickly, spreading by personal recommendation through social media websites and more widely through the web through the power of social search tools.
So the next time you're planning a trip, make sure you've signed up to the FCO on Facebook and Twitter. Let us know what you think about the information we're providing, and, of course, share it with your friends.
Published 23 September 2010