Wirral's volunteer soldiers honoured
Soldiers from two Merseyside-based Territorial Army squadrons were honoured with the Freedom of Wirral on Saturday.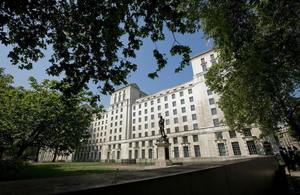 107 (Lancashire and Cheshire) Field Squadron Royal Engineers and 234 (Wirral) Transport Squadron Royal Logistic Corps were recognised for their 'outstanding service'.
Both marked the occasion with a parade through the streets of their home town of Birkenhead, which ended in historic Hamilton Square. The parade was supported by the Nottinghamshire Band of the Royal Engineers.
Following the presentation of the freedom scrolls, the Deputy Commander Land Forces, Major General Gerald Grosvenor, the Duke of Westminster, presented Squadron Sergeant Major Derek Smith, Lance Corporal Chris Coney and Lance Corporal Mike White, all of 107 Field Squadron, with their Afghanistan campaign medals.
Major Colin Murray, Officer Commanding 107 Field Squadron, part of 75 Engineer Regiment, said:
It is absolutely magnificent, particularly for those of us who live here, and I must say the presence of the band today made it all the more special.
Major Paul Pinchard, Officer Commanding 234 Transport Squadron, part of 156 Transport Regiment, said:
It is a huge honour for the squadron - the highest that the borough can give to a Territorial Army unit. It is a reflection of the hard work that the squadron has done, and the occasion has also rekindled our links with the Royal Engineers.
Lieutenant Colonel Al Veitch, Commanding Officer of 75 Engineer Regiment, added:
It is a tremendous honour to receive the Freedom of Wirral. Wirral has always been supportive of the military, particularly of units like ours which recruit from within the peninsula. The awarding of 234 Squadron with the Freedom of the Borough cements that relationship.
Lieutenant Colonel Bill Busby, Commanding Officer of 156 Transport Regiment, said:
The people of the Wirral are very close to our hearts and have been fantastic to us, particularly in recent years when many of our soldiers have been deployed on operations overseas. Today was an opportunity to say thank you to them all.
The Freedom of Wirral confers on both squadrons the 'right, privilege, honour and distinction of marching through the streets of Wirral on all ceremonial occasions with drums beating, bands playing and flags flying'. It gives both units the right to march through the town and bear arms.
Published 23 April 2012