Press release
Winter floods 2015: Storm Desmond Communities and Business Recovery Scheme
Payments for households now available under flood recovery scheme.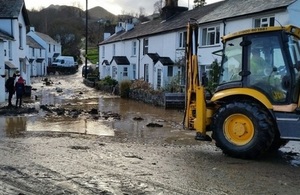 Has your household been affected by Storm Desmond?
The government's Communities and Business Recovery Scheme provided by the Department for Communities and Local Government (DCLG) should be able to help.
As part of this scheme, we have provided funding to affected local authorities worth over £500 per household to help with recovery costs, such as provision of temporary accommodation.
It is for each local authority to decide how to spend the recovery funding received from DCLG, to best meet local need
How do I apply for financial assistance?
Each local authority is running its own assistance schemes. In Cumbria as most properties already pay their Council Tax by direct debit, then you don't need to do anything.
The payment will be made directly into your bank account and will show up as a payment from your local council who are administrating the scheme.
Other councils are putting their own systems in place and will contact households to let them know what help they might be eligible for.
You can also contact your local council direct, who will be happy to help you apply for any funding for which you might be eligible.
This funding is part of a wider package of support available to businesses and residents, including business rate and Council Tax relief, for which applications should be made to the relevant district council.
Flood support information
Please see the links to Cumbria, Lancashire and Northumberland county council websites for further flood support information.
A helpline is available for anyone affected by the floods over the festive period. Open 24/7 the number to call for information and updates is 0345 988 1188.
Office address and general enquiries
2 Marsham Street
London
SW1P 4DF
Contact form http://forms.communiti...
General enquiries: please use this number if you are a member of the public 030 3444 0000
Published 18 December 2015
Last updated 24 December 2015
+ show all updates
Added information on new flood information helpline for Cumbria.
First published.