News story
Winners of the second round of innovation challenges announced
Last night the winners of the second round of innovation challenges were announced and included prizes for an early detection of cancer programme…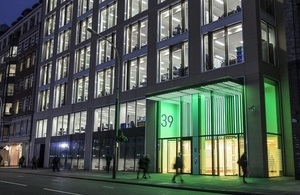 Last night the winners of the second round of innovation challenges were announced and included prizes for an early detection of cancer programme, improvements in turnaround times for cancer tests and a highly commended for a 21st century nurse's bag to help the control of infection.
The NHS Innovation Challenge Prizes reward ideas that tackle big health and social care challenges facing the NHS now and in the future, encouraging the spread of new ideas and best practice to improve quality and safety for patients.
The winners
Julie Grimmer, Community Engagement Project for the early detection of cancer, in partnership with NHS North East Lincolnshire - awarded £50,000
This community engagement project involves the use of 50 volunteers drawn from the local community in deprived wards, to act as agents in helping people understand, feel able to talk about and therefore seek help for early symptoms of cancer - essentially tackling a taboo, and denial.  Known as the early presentation of cancer symptoms collaborative programme, this is an innovative community led model combining social marketing, community involvement and community action.  The result is substantial increases in two week wait referrals - eg 50 per cent increase in bowel cancer and 67 per cent in prostate cancer.  Bowel screening uptake is currently 57 per cent against national uptake of 30 per cent.  Cervical screening uptake has seen a 12 per cent increase in the last three years compared to a 7.4 per cent regional increase.
Dr Dean Harmse, Histopathology Laboratory Turnaround Times to improve work flow in histopathology.  Plymouth Hospitals NHS Trust - awarded £50,000
This project demonstrated a remarkable turnaround in performance of a histopathology laboratory.  This was achieved by radical changes in workflow and other systems, coupled with staff and consultant engagement (the latter particularly sensitive given the workflow changes), all at no extra cost and indeed at a time when the lab had to reduce staff as part of hospital efficiency savings.  In a three month period they: reduced the backlog of cases from 500+ to zero; increased seven day turnaround time from 38 per cent to 87 per cent; and increased the 10 day turnaround time from 48 per cent to 94 per cent.
Dr David Swann, a 21st century nurse's bag to help in the control of infection, in partnership with NHS East Riding of Yorkshire - awarded highly commended status
The bags used in home visits are mainly made of absorbent textile fabric and may even be camera bags, backpacks etc.  They have a high infection risk and are difficult to clean. The applicant had designed a completely new kind of bag which includes an integrated treatment space and is very easy to clean, and highly functional.  The bag improves patient safety, productivity and the patient's experience.  A validation study of twenty four nurses compared efficaciousness of the bag against a contemporary bag and the means scores against the four design performance indicators (functionality, usability, features and image) all exceeded 7.35 (out of 10).  The panel was unanimous that it was highly innovative.
There are currently nine existing NHS innovation challenges open, including three new NHS innovation challenges, in COPD, diagnostics and falls.
There are three new NHS breakthrough challenges in stroke, diabetes and dementia. Up to £1 million of prize money can be awarded for each of the NHS breakthrough challenges.
The NHS Innovation Challenge Prizes are part of the Department of Health's wider innovation strategy designed to support the creation of a culture of innovation in the NHS. Supporting a culture of innovation is an essential part of the Department's leadership role
To find out more please visit: www.challengeprizes.institute.nhs.uk/innovation-in-the-nhs/
Published 26 June 2012