World news story
Winners of the GREAT Tech Rocketships initiative 2015
Five companies from India are winners of the GREAT Tech Rocketships initiative.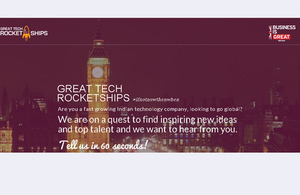 ICT companies that have won the competition fit the 3 Fs criteria - good Founders, strong Fan-base and Funded. These are:
Congruent Solutions Pvt Ltd, Chennai
FRILP.com, Chennai
Tone Tag, Bengaluru
Talview, Bengaluru
Agrima Infotech Pvt Ltd, Kochi
This ambitious initiative was launched on 20 January 2015 with a global call for ideas and submissions from entrepreneurs who want to change the world, aimed at impressive emerging companies with ideas in India, the UK and around the world that have the potential to be fast growing 'Rocketships'.
The winners were invited to visit the UK as part of a UK Trade & Investment (UKTI) delegation to present their products at one of the TechHub demo nights on 3 March 2015 in London and also tour Media City in Manchester as a part of the UK programme. The visit enabled the winners to immerse themselves into the local technology ecosystems; meet other entrepreneurs, identify funding options and build product propositions to fit those markets.
Kumar Iyer, British Deputy High Commissioner, Mumbai & Director General, UKTI India said:
I congratulate the five winners of our GREAT Tech Rocketship campaign. Out of the 289 entries received, choosing the five best was not easy. The journey does not end here however. This is simply the beginning of an exciting journey as we take our winners forward globally with the support of UKTI. On behalf of UKTI, I would like to thank our campaign partners TechHub, iSPIRT and India Angel Network for making this initiative the success that it has been.
Sharad Sharma, Co-Founder and Governing Council Member iSPIRT said:
GREAT Tech Rocketships to the UK is an excellent platform for Indian companies to explore UK as a business destination. It provides access to a set of resources that can assist Indian companies go global. We are hopeful that the partnership between iSPIRT, UKTI and TechHub will create strong connections between the entrepreneurial eco-systems in India and the UK. To execute the first event of this initiative in record time was possible due to the commendable commitment from a multi-country team comprising of volunteers & individuals from iSPIRT, UKTI and TechHub.
Stewart Noakes, Co-Founder TechHub Bengaluru said:
This has been an amazing experience. We have been overwhelmed with the enthusiastic response of so many high caliber startups from across the country. This process has been both fast and effective. A wonderful collaboration across like minded organisations would not have been achieved without the full team effort.
The winners said:
Senthil Kanthaswamy Founder & COO FRILP.com, Chennai:
It was a fantastic experience to be immersed in the UK start-up ecosystem through the UKTI's GREAT Tech Rocketship. We got to understand in detail about the support system, investment options and infrastructure available for Indian start-ups to expand globally through the UK and also got a chance to explore synergies with other players there. We also got a sneak peek into the Media City that has been set up at Manchester and was thoroughly impressed by the vision with which it had been developed where the talent, infrastructure, investment and other support systems come together in a single place and could see how it can be a big win for start-ups wanting to go global.
Balaraman Jayaraman President Congruent Solutions Pvt Ltd, Chennai:
The event has been going very well so far. It was a privilege to be chosen as the GREAT Tech Rocketship. We have had very fruitful meetings and exposure during the demo night. But the highlight truly was our visit to Manchester organised by the UKTI. I was very impressed by the support that is being provided to tech companies by MIDAS and its partner institutions. We were blown away by what we saw at The Landing and Media City. The visit to the Science Park was an eye opener too. Thanks for the opportunity!
Arun Ravi Vice President – Business Operations Agrima Infotech India Pvt Ltd, Kochi:
It's a wonderful experience; we got huge exposure in TechHub and demo night. Special thanks to UKTI team for organizing meeting regarding placing of company in Europe. The Manchester visit was the most precious one in this UK visit. Thanks a lot to UK government.
Kumar Abhishek Founder & CEO of Tone Tag, Bengaluru:
ToneTag has global aspiration, TechHub together with UKTI brought us the opportunity in form of the GREAT Rocketship. As the GREAT Rocketship winners, we received a fabulous welcome in the UK and were enlightened with the buzzing startup ecosystems of London (TechHub + Campus) and Manchester (The Landing). It was also overwhelming to see an excellent walkthrough of support which UKTI could provide in helping us setup offices in UK, right from Legal, immigration, hiring, funding to even getting us office spaces.
Sanjoe Jose CEO Talview, Bengaluru:
Rocketships event has given us an opportunity to understand the business environment and market dynamics of UK especially London and Manchester. It has given us a platform to partner with players in local ecosystem and plan our expansion for the European market.
Further information:
The initiative is a UKTI activity run in partnership with TechHub and supported by Ispirt with partnership from UKIBC, Indian Angel Network and other Tier I Investors.
It was run across 5 cities (Bengaluru, Chennai, Pune, Hyderabad and New Delhi) in the format of a demo night where the companies who participated/registered were shortlisted and invited to present their idea/technology at the demo nights in each of the cities. A total of 289 applications were received and 5 companies were announced as winners on 22 February 2015. The programme began with call for ideas and submissions in the form of a 60-second video tweeted @TechHubBlr using the hashtag #IfNotNowThenWhen.
UKTI works with UK-based businesses to ensure their success in international markets through exports. We encourage and support overseas companies to look at the UK as the best place to set up or expand their business.
iSPIRT Foundation connects and guides software product entrepreneurs and catalyzes business growth. It's an enabler of a stronger ecosystem. We encourage buyers to improve performance by leveraging software products effectively. We advise policy makers on interventions that can set the industry on a higher growth trajectory. We are a not-for-profit industry think-tank founded by key participants and proponents of the Indian software product industry.
TechHub is a unique environment where technology startups can start up and grow faster. We nurture an international network of like-minded and focused tech entrepreneurs, providing places where they can work, meet, collaborate, network, learn and have fun. By getting the right people together in a physical space, good things happen.
Mail to: Neal Jhalla, Senior Inward Investment Adviser, UKTI, British Trade Office, Pune
Follow us on Twitter, Facebook, Flickr, Storify, Eventbrite, Blogs, Foursquare, Youtube
Published 12 March 2015