Winners of first Queen Elizabeth Prize for Engineering announced
World Wide Web pioneers take inaugural award at ceremony in London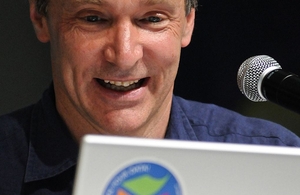 Internet pioneers Marc Andreessen, Tim Berners Lee, Vint Cerf, Robert Kahn and Louis Pouzin are the first recipients of the Queen Elizabeth Prize for Engineering and will share the £1m award. The jury said they all made seminal contributions to the revolution in communications which began in the 1970s.
Detailed information on the winners' individual contributions
The winners were announced by Lord Browne at a special ceremony on 18 March 2013 at the Royal Academy of Engineering in London in the presence of HRH The Princess Royal. The Queen will present the winners with a trophy at Buckingham Palace in June.
The Prize
The Queen Elizabeth Prize for Engineering (QEPrize) is a £1million global engineering prize that rewards and celebrates an individual or individuals responsible for a ground-breaking innovation in engineering that has been of global benefit to humanity. It is awarded every other year. The winner (or winners), of any nationality, will have been responsible for advancing the positive application of engineering knowledge that has produced tangible and widespread public benefit.
In celebrating stories of engineering success, it is hoped that the prize will raise the international public profile of engineering and inspire new generations of engineers to take up the challenges of the future.
Funding
The QEPrize is run by an independent trust, called the Queen Elizabeth Prize for Engineering Foundation chaired by Lord Browne of Madingley. Professor Sir John Beddington, the Chief Scientific Adviser to the UK Government, is an adviser to the Foundation. Founding donors to the Foundation include BAE Systems, BG Group, BP, GlaxoSmithKline, Jaguar Land Rover, National Grid, Royal Dutch Shell, Siemens, Sony, Tata Consultancy Services, Tata Steel Europe and Toshiba.
Jury
The pre-eminent panel of 15 judges are leaders in the field of engineering and represent a wide range of internationally renowned institutions, academies and corporations. Among its members is Professor Dr. Dr. h.c. Reinhard Hüttl, Scientific Director of the German Research Centre for Geosciences (GFZ) in Potsdam and President of acatech - the German Academy of Science and Engineering.
Published 19 March 2013