News story
Winner of the Make it in Great Britain Challenge unveiled
BedFleX stormed to victory in the final leg of the Challenge after being on display for the final week of the Make it in Great Britain exhibition…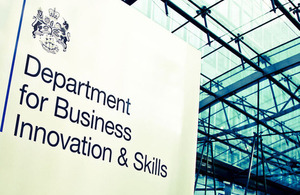 BedFleX stormed to victory in the final leg of the Challenge after being on display for the final week of the Make it in Great Britain exhibition at the Science Museum, where members of the public were invited to vote on their favourite of five finalists, all of whom had previously been recognised as best in their category.
BAE Systems won the public vote for its BedFleX, which is an elastic attachment for use by recovering amputees and critical care patients which allows them to take part in bed-based exercise to aid rehabilitation. As winner of the Make it in Great Britain Challenge, BedFleX provides a great example of pioneering and cutting-edge innovation, and of British manufacturing creativity at its very best.
Business Minister Michael Fallon said: "I'd like to congratulate the BedFlex team for their success at winning the Make it in Great Britain Challenge. They have put the skills they gained from their apprenticeships into creating this winning piece of technology. The Challenge was launched to seek out some of the most innovative pre-market designs and concepts in modern British manufacturing, of which Bedflex's unique idea is a great example.
"All of the finalists should be proud of their success at making it to the Make it in Great Britain Exhibition. Over 40,000 people came to see their creations alongside those of some of Britain's leading manufacturers, which demonstrated that the UK is still a leading manufacturing nation and a hub of creativity."
Using an innovative attachment, BedFlex enables patients to secure resistance tubing to a stable object (such as the bed) without the risk of the elastic slipping or coming undone - a common problem with existing physiotherapy tools which use resistance tubing.
Alongside BedFlex, other finalists of the competition included a new technology which could offer relief to tinnitus sufferers, an eco-friendly alternative to everyday cement that could reduce CO2 emissions by up to 90 per cent and a pushchair that can be folded down to a 32 litre-size rucksack.
Sean Gallagher, part of the winning BAE Systems apprentice team, said: "We are extremely proud and honoured to be announced as the winner of the Make it in Great Britain Challenge, and hope our achievement will help to tackle outdated perceptions of the manufacturing sector by highlighting the innovation taking place in Britain today.
"To see our invention on display at the world-famous Science Museum was a very rewarding experience, and we are delighted to be crowned the overall winner of this national competition - it's an incredible feeling."
The BAE Systems apprentices will receive an award for their success at the Best Factory Awards 2012, taking place later this month.
To find out more about the Make it in Great Britain Challenge and the campaign, please visit the Make it in Great Britain website.
**Notes to editors:
**1. Make it in Great Britain Challenge categories were:
Make it…Stronger
Make it…Smarter;
Make it…Sustainable;
Make it…Life changing; and
Make it…Breakthrough (for 16-21 year old entrants only)
Make it…Breakthrough was specifically designed for young people and entries can conform to any of the other four categories. Members of the public had a chance to vote on which of the finalists in this category they believed was the most significant innovation, with the winner securing a place in the Science Museum for the entire duration of the exhibition.

About Make it in Great Britain
Make it in Great Britain is a campaign that challenges outdated perceptions to help transform the image of modern manufacturing.
Business Secretary Vince Cable and Business Minister Mark Prisk launched the Make it in Great Britain campaign at a stakeholder event in Central London attended by 150 of Britain's manufacturers and trade associations in November 2011.

The Make it in Great Britain exhibition took place at the Science Museum from 24 July to 09 September.

For more information, and further information about the finalists visit http://makeitingreatbritain.bis.gov.uk/

The Government's economic policy objective is to achieve 'strong, sustainable and balanced growth that is more evenly shared across the country and between industries.' It set four ambitions in the 'Plan for Growth' (PDF 1.7MB), published at Budget 2011:
To create the most competitive tax system in the G20

To make the UK the best place in Europe to start, finance and grow a business

To encourage investment and exports as a route to a more balanced economy

To create a more educated workforce that is the most flexible in Europe.
Work is underway across Government to achieve these ambitions, including progress on more than 250 measures as part of the Growth Review. Developing an Industrial Strategy gives new impetus to this work by providing businesses, investors and the public with more clarity about the long-term direction in which the Government wants the economy to travel.
BIS's online newsroom contains the latest press notices and speeches, as well as video and images for download. It also features an up to date list of BIS press office contacts. See [http://www.bis.gov.uk/newsroom](http://www.bis.gov.uk/newsroom) for more information.
Notes to Editors
Contact Information
Name BIS Press Office Job Title
Division Department for Business, Innovation & Skills Phone
Fax
Mobile
Email bispress.releases@bis.gsi.gov.uk
Name Andy Aston Job Title
Division Department for Business, Innovation & Skills Phone 0207 215 6963 Fax
Mobile
Published 17 September 2012