News story
Winner of DVLA's free prize draw for a Mini One announced
Alison Flockhart from Inverness won the brand new Mini One after registering to bid at a DVLA personalised registration auction.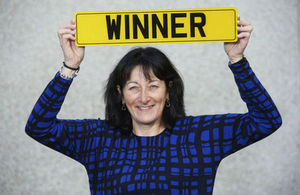 The free prize draw was held to celebrate DVLA's 25th anniversary of selling personalised registrations and its 150th auction. Anyone who registered to bid at the 150th auction or the auction in Twickenham Stadium in September was entered into the prize draw.
The Mini One, which has low emissions and is manufactured in the UK, was provided by DVLA's auctioneers at no cost to the taxpayer.
Records broken
The 150th auction held at the Vale of Glamorgan resort in South Wales, saw a new record paid for a registration number. 25 O sold for £518,000, the highest amount paid for a number sold by DVLA.
Other top selling numbers were:
250 L - £130,328
WJP 1 - £27,296
CU11 ENS - £26,648
964 RS - £26,259
In total, the 150th auction raised around £4 million for HM Treasury.
The next auction
The next auction will be held at the Nottingham Belfry, Nottingham from 25 February to 27 February 2015. There are also millions of personalised registrations available to buy online on the DVLA Personalised Registrations' official website.
Published 23 December 2014