World news story
Winner of 2014/2015 BUBA Awards Announced at British Universities' Brunei Association Prize Presentation and Networking Reception
A ceremony to fete students and schools who participated in the 2014/15 BUBA Awards took place at the Empire Hotel on Tuesday 17 February.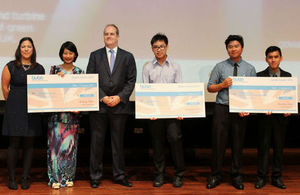 BUBA Chairman, Ms Kimberly Tritton, and British High Commissioner, H.E. David Campbell, presented prizes at an event which showcased Brunei's best Sixth Form sustainable and creative talent.
Six schools that took part: Maktab Duli Pengiran Muda Al-Muhtadee Billah, Maktab Sains Paduka Seri Begawan Sultan, Pusat Tingkatan Enam Meragang, Pusat Tingkatan Enam Katok, Pusat Tingkatan Enam Tutong and Jerudong International School.
The first prize winner was Joan Ting Sze Lian from Pusat Tingkatan Enam Meragang with her article on 'The Feasible Trasnformation of Brunei Darussalam'. She won a $2000 cash prize and the BUBA trophy. The runner up was Hong Ming Lim from the Jerudong International School, who won a $1000 cash prize, with his article on 'Ocean Thermal Energy Conversion in Brunei. Third place went to Aimin Omar Ali and Amir Yazid Hakim bin Mohammad Adam with their creative writing piece on 'Harnessing the Power of the Sun in the Sultanate'. All three winners were presented with plaques and certificates.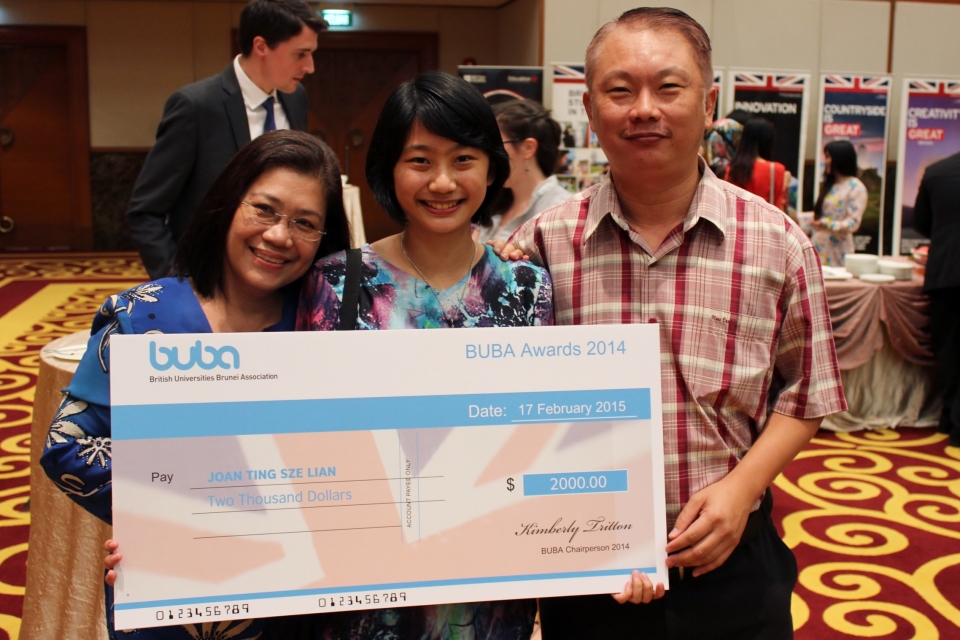 The BUBA Awards were launched in 2012 by the British Foreign Secretary and the Minister of Education, Yang Berhormat Pehin Orang Kaya Seri Kerna Dato Seri Setia (Dr) Haji Awang Abu Bakar bin Haji Apong, during William Hague's April visit to Brunei.
Also present at the event was British wildlife conservationist Ms Louise Fletcher, who gave a short speech about the plight of the pangolin and the impact of the international trade in wildlife. Louise was in Brunei from 16 to 21 February and did a number of public engagements with relevant government ministries and officials, non-governmental organisations that focus on wildlife and conservation as well as school visits.
Representatives from UK universities in the country for the Education UK 2014 Exhibition, which took place earlier that day at Indera Samudra Grand Hall 3, Empire Hotel and Country Club, were also at the event.
Further information
For more photos from the BUBA Awards Prize Presentation and Networking Reception, visit UKinBrunei on Flickr.
Published 24 February 2015