World news story
Winner of 2013/2014 BUBA Awards Announced at British Universities' Brunei Association Prize Presentation and Networking Reception
A ceremony to fete students and schools who participated in the 2013/14 BUBA Awards took place at the Empire Hotel on Wednesday 12 February.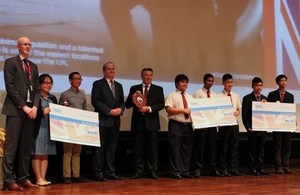 BUBA Chairman, Lee Wildman, and British High Commissioner, Mr David Campbell, presented prizes at an event which showcased Brunei's best Sixth Form entrepreneurship talent.
Seven schools that took part: Maktab Duli Pengiran Muda Al-Muhtadee Billah, Maktab Sains Paduka Seri Begawan Sultan, Pusat Tingkatkan Enam Meragang, Pusat Tingkatan Enam Katok, Pusat Tingkatan Enam Tutong, Sekolah Menengah Sayyidina Ali and Jerudong International School.
British High Commissioner David Campbell said:
This is another great initiative by BUBA which has caught students' imagination. I congratulate all the finalists on their excellent business ideas
The first prize winners were Justin Thomas, Ho Shing Chen and Wei Liang Hii from JIS with their 'Sky Village' project to build an eco-lodge in Tasek Merimbun. The trio won a $2000 cash prize and the BUBA trophy. They will also be flown to the UK to get a taste of University life. The competition winner will be flown to the UK to visit historical UK landmarks such as Buckingham Palace, Big Ben, London Eye and Edinburgh Castle as well as visiting some of the BUBA universities that they're interested in applying too.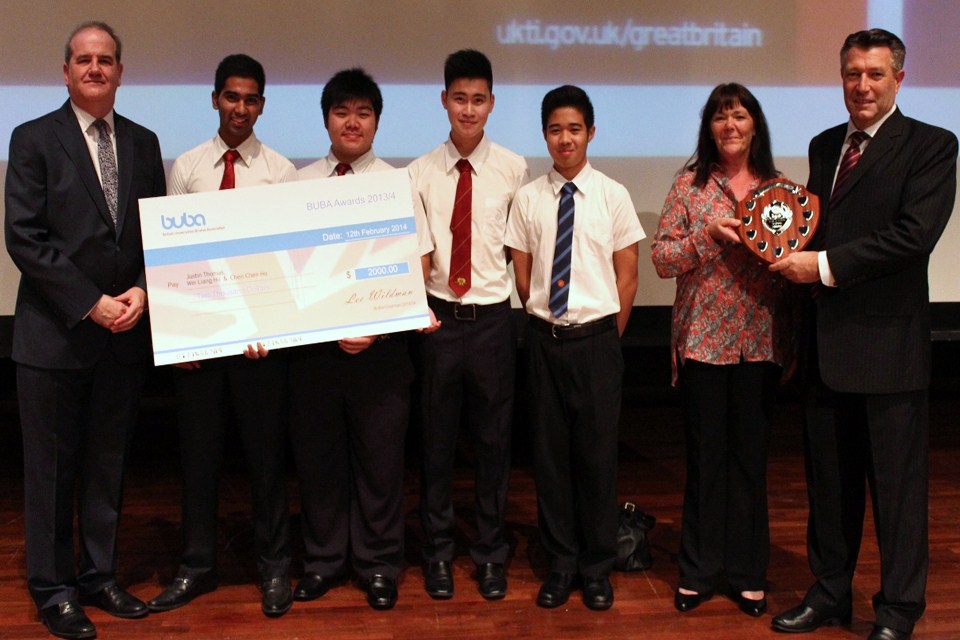 The runners up were Wong Choon Jie and Justin Tan Kian Fook from the Meragang Sixth Form Centre, who won a $1000 cash prize, with their business plan called 'Portable Pte Ltd' to build a portable scanner and printer. Third place went to Awang Abdul Muqtadir bin Awang Haji Suhaimei and Koh Li Juan from Duli Pengiran Al-Muhtadee Billah College with their business idea of creating a 'The Buku Cafe'. They won a $500 cash prize. All three winners were presented with plaques and certificates.
Before announcing the overall winner, BUBA Chairman Lee Wildman said the competition this year was very tight with only a single point separating the top two entries:
Students excelled during the Dragons' Den presentations in front of the judging panel proving that Brunei has a number of confident, talented and motivated entrepreneurs for the future.
The BUBA Awards were launched in 2012 by the British Foreign Secretary and the Minister of Education, Yang Berhormat Pehin Orang Kaya Seri Kerna Dato Seri Setia (Dr) Haji Awang Abu Bakar bin Haji Apong, during William Hague's April visit to Brunei.
Also present at the event was Wing Commander Andy Green, who gave a short presentation about the Bloodhound Project. Those attending the event had the chance to test out the Bloodhound Driving Simulator which gives users a first look at driving Bloodhound, using prototype instrument designs, a realistic performance model and some high-quality graphics.
Representatives from UK universities in the country for the Education UK 2014 Exhibition, which took place earlier that day at Indera Samudra Grand Hall 3, Empire Hotel and Country Club, were also at the event.
Further information
For more photos from the BUBA Awards Prize Presentation and Networking Reception, visit UKinBrunei on Flickr.
Published 14 February 2014