Wimbledon fans show pride in Armed Forces
Continuing a tradition that stretches back to the Second World War, members of the UK's Armed Forces have again been in attendance at the Wimbledon Tennis Championships this year where the general public have been expressing their pride in them. Report by Leigh Hamilton.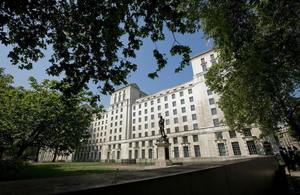 Over 300 personnel from all three Services are recruited to be stewards at the two-week tennis championships every year.
Their responsibilities include helping the public get from their queue positions outside the courts to their seats, ensuring that members of the public abide by Wimbledon rules such as turning off mobile phones during play, and making sure that members of the audience are comfortable and well-hydrated.
As over half of those who are chosen must have done the job before, the competition is fierce for the hundreds of personnel who apply to work at Wimbledon, so for those who are chosen success is so much sweeter.
Warrant Officer Class 1 Mark Hannibal is part of the team in charge of the Service stewards. He said:
For some, they're absolutely top of the world when they find out they've been chosen. They're overwhelmed a lot of them, especially those who are first-timers and they didn't believe they could do it, so I think the main thing is them realising that they're going to be at Wimbledon.
Service stewards man the famous Centre Court, as well as Number One Court and Number Two Court, alongside members of the London Fire Brigade who make up the other half of the stewards required at Wimbledon.
Although the Armed Forces personnel have to use part of their allocated leave to steward at Wimbledon, they appreciate the opportunity to serve on such hallowed grounds.
Leading Seaman Stuart Linnahan joined the Royal Navy 15 years ago and deployed to Iraq with the Royal Navy Training Team in 2004. He said:
It was tough. It was Op TELIC 4, so it was only a year after the war and everything was still a bit tetchy, but the Iraqi people really wanted to learn about how to do it themselves so we could quietly start moving out of Iraq. That was a great high for me as I was doing my job and giving something back to people.
Being here [at Wimbledon] if you're in uniform the public gets to see you. Over the past 15 years, whether there have been highs or lows, people can see me and I can know that they are seeing the Royal Navy through me.

So Wimbledon for me is a bit of tennis, but it's also a chance for me to stand there and let the public see me.
For tennis enthusiasts such as Gunner Jessica Swords, not only is Wimbledon a chance to represent the Armed Forces, it's a chance to indulge in a sporting passion:
It's really amazing," she said. "I'm working on Number One Court. It's brilliant! You get to watch tennis and meet loads of people.

Number One Court has 11,750 seats, so that's how many people come in every day. I watch Wimbledon every year, so as soon as I heard about this opportunity I just had to do it. It's my first time here. I love it, I'm having so much fun.
A big part of the reason Service personnel are repeatedly asked to steward at Wimbledon is their ability to converse with the public, many of whom have travelled from as far away as the United States and Australia to see their tennis heroes in action.
WO1 Hannibal explained:
When the grounds open at 10.30 and before play starts on Centre Court at one o'clock, a lot of people will come in to take photographs and things like that and at that point there's a lot of chat going on about all the jobs within the military.

It's a massive reward to see the guys interacting with the public. It's that little bit that gives you that feeling that you've achieved something.
LS Linnahan added:
I like them to see what I'm doing and if they don't know anything about the Navy I'm more than willing to tell them about it, so it's nice for me too.
I'm lucky enough to be serving on HMS Daring at the moment, on the new Type 45 destroyer, and once they see my cap tally they're asking me what it's like to be on Daring and I can start talking about that which I really enjoy.
As Armed Forces Day (26 June) fell during the Wimbledon Championships this year, the stewarding personnel present were treated to a standing ovation by the audience on Centre Court, which included various sporting legends such as Sir Bobby Charlton and Olympian Sir Chris Hoy.
Armed Forces Day is a national event to honour and pay tribute to the UK's military personnel both past and present, and, for members of the public at Wimbledon, the pride in the country's military was obvious.
WO1 Hannibal added:
For a lot of the guys who have deployed, being on Centre Court for Armed Forces Day is a very special moment.
Amongst the military personnel at Wimbledon this year have been 14 people who recently returned from Afghanistan. They were chosen by the Chief of the General Staff, General Sir David Richards, to sit in the Royal Box at Wimbledon for the event.
Flight Sergeant Julie Calder said:
It makes you feel really proud. It's nice to have some backing from the general public as a lot of the time you don't really know how they feel about the military.

It's lovely to see the support and, especially for the guys in the Royal Box who have just come back from ops, it's good to show appreciation to people like that.
For the past 63 years, the Armed Forces have been an integral part of the British institution of Wimbledon and here's hoping they will continue to be at the forefront of the championships for another 63 years to come.
Published 2 July 2010