Press release
Wiltshire waste company boss prosecuted for environmental offences
A Wiltshire man has received a suspended prison sentence after he was caught illegally transporting and storing clinical waste.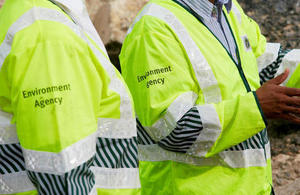 Christopher Downs was also banned from being a company director for two years, ordered to carry out 100 hours community service and to pay £5,500 costs. The case was brought by the Environment Agency.
In November 2011 an Agency officer visited the defendant in Salisbury and saw he was bringing clinical waste to the site without an environmental permit. He had previously registered as a waste carrier and was trading as a company called Prowaste Solutions.
The business was located behind a children's nursery. After receiving advice from the Agency, Christopher Downs, moved to a more suitable location on the Ashfield Trading Estate, Salisbury.
Magistrates heard how the defendant made a number of permit applications, but on each occasion he either failed to provide sufficient information or pay the necessary application fee. In November 2012, Christopher Downs started bringing general waste to the site as well as clinical waste despite being told on numerous occasions he needed an environmental permit.
In February 2013 he obtained an 'exemption' that allowed him to take in separated recyclable waste such as cardboard, plastic and metals. However, he also continued to bring general waste to the site without a permit.
Stephanie Marriott for the Environment Agency said:
Environmental permits are important because they help safeguard the environment and human health. The defendant had every opportunity to obtain a permit, but chose ignore the advice he was given and continued to operate illegally.
In October 2013 the Agency served Christopher Downs with a legal notice to prevent him from bringing general waste to his business premises.
At a recent court hearing, Downs was found guilty by Salisbury magistrates o operating a regulated waste facility on land in Estcourt Road, Salisbury without an environmental permit contrary to Section 12(1)(a) and 38(1)(a) of the Environmental Permitting Regulations 2010. As a director of the company, he was also convicted of giving his consent or connivance to operate an illegal waste facility on the Ashfield Industrial Estate, Salisbury.
Downs, of Wessex Road, Salisbury, returned to court for final sentencing on May 19. The 16-week prison sentence was suspended for two years. He was also ordered to pay an £80 Victim Surcharge and carry out the 100 hours community service over the next 12 months. There was no separate penalty for the connivance offence.
ENDS
Published 5 June 2014