World news story
William Hague launches business-education partnership in Brazil
The business-education partnership between Brazil and the UK will benefit hundreds of talented Brazilian students aiming to study in the UK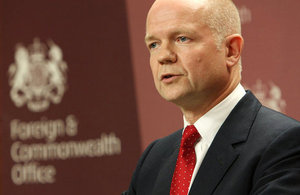 A new initiative between Brazil and the UK will encourage companies to support the Science without Borders UK and Chevening programmes. The British Foreign Secretary William Hague, in Brazil for his second visit, will launch the initiative in an event with British and Brazilian companies on Tuesday 18th February. Brazilian Chevening and Science without Borders (SwB) alumni will join Hague at the event to also celebrate the historical links between the UK and Brazil in education.
The Partnership encourages companies to offer internships to SwB students, co-sponsor scholarships and support the UK Alumni Network in Brazil. With expertise in talent and leadership formation, the UK has been playing an important role in the formation of the private sector in Brazil. Since the first Brazilian to receive a scholarship from the British government in 1938, hundreds of other talented students have shared the UK's culture when studying at British universities. "The experience I had when doing my MBA in Manchester went beyond the university walls. Internships and lectures with CEO's from international companies gave me the background I needed to come back to Brazil with a stronger background", says Alexandre Campos, 2007 Chevening Alumnus.
Chevening Scholarships programme is celebrating its 30th anniversary with over 1450 alumni in Brazil. There will be 30 scholarships on offer under this programme in 2014, an increase from 21 last year representing an investment of roughly half a million pounds. Our long term objective is to increase the number of scholarships to support new Brazilian talent and future leaders.
Science without Borders UK is another successful scholarship programme. In partnership with the Brazilian government, it has enabled many Brazilian students to study in the UK. Over 80 universities from across the UK are now hosting SwB students from over 100 Brazilian universities, and to date SwB has welcomed almost 6,000 students to the UK. These students have contributed immensely to the culture of our universities. We look forward to welcoming more.
Published 18 February 2014