Press release
William Hague calls for a stronger international response to the use of sexual violence in Iraq
William Hague met Gordon Campbell, the Canadian High Commissioner to the UK, to discuss the use of sexual violence by ISIL in Iraq.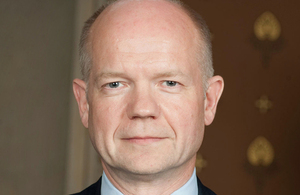 Recent reports from the United Nations and human rights NGOs point to the systematic use of sexual violence by ISIL as a tactic aimed at spreading terror, forcing the displacement of communities, and deepening sectarian divisions in Iraq. This includes forced marriage, kidnappings and rape and sexual slavery.
To identify what more should be done to respond to these crimes and to support the needs of survivors and displaced people in Iraq, the Prime Minister's Special Representative on Preventing Sexual Violence in Conflict, William Hague, hosted a meeting today with the Canadian High Commissioner to the United Kingdom, His Excellency Gordon Campbell, and a group of international NGOs – many of whom are currently working in Iraq – to discuss the situation faced by women, children and those vulnerable to sexual violence.
The meeting has been called to inform a joint scoping mission by government experts from the UK and Canada to identify opportunities to work with the Iraqi government and local civil society to address this issue. This joint work reflects the commitment at the Global Summit to End Sexual Violence in Conflict in June that governments, NGOs and civil society must work together to end the use of rape and sexual violence in war.
Mr Hague warned:
The reports of sexual violence against women and children in Iraq are horrifying. We are working closely with the government of Canada to identify what more we can do to prevent and respond to this violence. It is essential that the international community addresses this aspect of the conflict. A failure to act now will only make peace and security in Iraq even harder to secure.
Canada's Foreign Minister John Baird said:
Canada is working closely with its allies to coordinate our response to sexual violence and related human rights abuses in ISIL-affected areas. To this end, Canada and the UK are deploying sexual violence and programming experts on a joint assessment mission to the region to meet with relevant international and national stakeholders.
Notes to editor
The meeting was attended by International Medical Corp, International Committee of the Red Cross, War Child, Save the Children, International Rescue Committee, Amnesty International, Women's International League for Peace and Freedom and Widows for Peace Through Democracy.
The meeting follows the Global Summit to End Sexual Violence in Conflict hosted in June 2014, attended by 120 countries, and aimed at achieving political will and practical end to end the use of rape as a weapon of war.
Published 6 November 2014