William Hague appointed Foreign Secretary
Rt Hon William Hague MP has been appointed Secretary of State for Foreign and Commonwealth Affairs.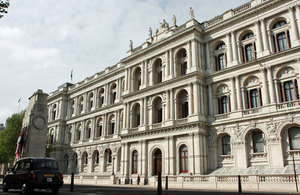 William Hague was elected to Parliament in 1989 and is the Member of Parliament for Richmond (Yorks). He was the Leader of the Conservative Party from June 1997 to September 2001 and Shadow Foreign Secretary from December 2005 to May 2010.
Speaking as he arrived at the Foreign and Commonwealth Office, the Foreign Secretary said:
"I'm determined there will be a distinctive British foreign policy. Our special relationship with the United States is of huge importance to us, as are our relations with all the countries of the European Union. But we also need to make sure we're doing everything we can to develop relationships in South Asia, in North Africa and Latin America, to build the relationships with countries that are where the economic action is in the world."
Foreign Secretary William Hague added that Afghanistan would be one of his highest priorities and that the National Security Committee would convene today "so that decisions about foreign policy, defence policy are properly integrated together at the highest levels of Government."
The Foreign Secretary's appointment follows the formation of a new Government under Prime Minister David Cameron at the invitation of HM the Queen on 11 May 2010.
Published 12 May 2010