News story
Willetts welcomes new student finance taskforce
The independent taskforce will work to combat the myths around the changes to English student finance in 2012 and will seek to reassure potential…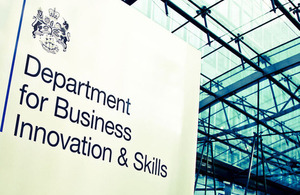 The independent taskforce will work to combat the myths around the changes to English student finance in 2012 and will seek to reassure potential students about what they can expect when applying for university and beyond.
Minister for Universities and Science, David Willetts said,
"It is vital that people understand how the new system will work from 2012. This independent group has the expertise and reach to communicate to a huge number of prospective students, families and teachers as well as to universities. I strongly back this new initiative. The group will be well resourced by the sector and we will be listening to what it says.
"Under the new system no new student will be asked to pay up front for their tuition. There will be more financial support for students from low-income households. Graduates will not be asked to repay their loans until they are in well paid jobs. I thank all those who are coming together from a wide range of organisations to help ensure the public have the facts."
The taskforce will provide a valuable boost to the government's public information campaign on student finance for 2012 students, launched last month. The press, radio, media partnership and social media campaign links students and parents to a new dedicated Direct.gov.uk microsite, which describes how the tuition loan system will operate, how to get a student loan, help with living costs and what support is available from government.
More information on the campaign can be found at: http://yourfuture.direct.gov.uk/
Notes to Editors:
---
1. The Independent Taskforce on Student Finance Communication
The task force is being established to help ensure students understand the true cost of their education after the 2012 English student finance changes. It is to be independent of government and set its own agenda - membership is of university, student groups, experts and others.
It primary aim is to co-ordinate, advocate and champion best of breed communication in the online, app, print, and broadcast spaces - allowing all interested groups (e.g. schools, colleges, universities) to help students understand the changes, access to the best unbiased educational tools to do so.
Further details about the taskforce and facts about student finance can be found at: www.moneysavingexpert.com/students2012
2. Martin Lewis
Martin Lewis, Money Saving Expert, is a journalist and consumer campaigner who created MoneySavingExpert.com, the UK's biggest money website, which has almost 10 million monthly unique users and over 5 million have opted to receive the weekly e-mail. He is the UK's 2nd most internet searched person, Citizens Advice Consumer Champion of the year, has spearheaded major financial justice campaigns including bank charges reclaiming (over 6m template letters downloaded) and PPI reclaiming (over 1m). He has regular slots as resident expert on Daybreak, Lorraine, Radio 2's Vine, Radio 5's consumer panel and BBC1 Watchdog amongst others.
3. Wes Streeting
Wes Streeting is Chief Executive of the Helena Kennedy Foundation, which aims to overcome social injustice by providing financial bursaries, mentoring and support to disadvantaged students from the further and adult education sectors. Previously he was President of the National Union of Students from 2008-2010. Wes is also a Labour councillor in the London borough of Redbridge.
BIS's online newsroom contains the latest press notices, speeches, as well as video and images for download. It also features an up to date list of BIS press office contacts. See [http://www.bis.gov.uk/newsroom](http://www.bis.gov.uk/newsroom) for more information.
Notes to Editors
Contact Information
Name BIS Press Office Job Title
Division COI Phone
Fax
Mobile
Email NDS.BIS@coi.gsi.gov.uk
Name Emma Griffiths Job Title
Division Department for Business, Innovation and Skills Phone 020 7215 5982 Fax
Mobile
Published 17 June 2011