News story
Willetts supports BPP in becoming a university college
David Willetts, Minister of State for Universities and Skills, has today announced that BPP College of Professional Studies is to become BPP…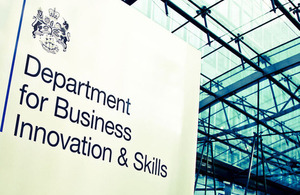 David Willetts, Minister of State for Universities and Skills, has today announced that BPP College of Professional Studies is to become BPP University College with immediate effect. This is the first time a private institution has been awarded the University College title since Buckingham University College - now the University of Buckingham - was created in 1976.
The new title 'University College' comes three years after BPP was first awarded degree-awarding powers. It is the only private University College in the UK and offers degrees at undergraduate and postgraduate level in Business and Law.
David Willetts, Minister of State for Universities and Science said:
"The Coalition Government is committed to promoting a wider range of educational opportunities, delivering a more diverse higher education system and matching the skills employers want. So I am delighted that, less than four months after coming to office, we are creating the first new private University College in over 30 years.
"It is healthy to have a vibrant private sector working alongside our more traditional universities. International experience shows a diverse range of higher education providers helps widen access, focuses attention on teaching quality and promotes innovative learning methods, such as web-based distance learning.
"We want to see a higher education sector that is dynamic and flexible and focussed on the needs of students and employers. We look forward to working with BPP University College and other private institutions to help achieve that."
Carl Lygo, Chief Executive Officer, BPP said:
"Ensuring the UK has a high quality private sector for Higher Education is crucial to help provide greater opportunity and choice for students. We are delighted to be at the forefront of these developments with our 34 year history of serving the accountancy and legal professions. Becoming a University College is another major step in our journey, and we have some exciting growth plans for the next 5 years, which include expanding into other sectors, increasing our range of programmes and providing highly flexible methods of study."
"The education landscape is changing, and over the next decade we will see a different picture emerging, where both students and employers will drive demand for their preferred method of study and training. We see ourselves as a pioneer in this field, and hope that our unique status and self funding model will lead the way in which other providers will be able to operate in."
As well as creating additional university places for graduates this September, BPP trains over 140,000 professionals worldwide each year. Through its regional network of 14 city centre locations in the UK, it provides education and training to the accountancy, financial services and legal sectors, building on nearly 35 years of expertise.
**ENDS
**
Media enquiries and interview requests to:
BPP
Christine O'Grady
0207 633 4418
07909 117962**
christineo'grady@bpp.com** **
**
Mallory Dees
BPP Press Office
Tel 0207 633 4542
**
BIS**
Lucy Bell
020 7215 5361 (Direct line)
0207 215 3505 (Weekend duty press officer)
lucy.bell@bis.gsi.gov.uk
David Willetts, MP is available for media interviews upon request, please contact the BIS press office.
Carl Lygo is also available for interviews upon request via BPP press office.
Biography, photograph of Carl Lygo and BPP University College available at www.bpp.com/University-College.aspx
Notes to Editors**
**
1. About the University College title
The title of university college is typically sought by, and awarded to, smaller higher education institutions with taught degree awarding powers, who deliver a limited range of degrees and higher education qualifications. To apply for university title, an institution must have taught degree awarding powers, at least 4000 full time equivalent higher education students, 3000 of whom must be studying for a degree. It must also be able to demonstrate that it has regard to the principles of good governance as are relevant to the higher education sector.
About BPP
BPP is a leading European private education and training provider in the fields of business, law, finance, tax and accountancy.
BPP University College of Professional Studies has over 6,500 students at its UK law and business schools, and trains over 30,000 accountants. Its programmes cover undergraduate and postgraduate degrees, MBAs, short courses, summer schools, training and ongoing development for professionals. As well as its main city schools in London, Bristol, Birmingham, Leeds and Manchester, it has regional centres across the UK, and offers a range of flexible study options - including full and part-time programmes, accelerated courses, online and distance learning. Many Law firms send their trainees to BPP Law School on an exclusive basis.
In 2007, BPP College was granted degree awarding powers by the Privy Council, and in 2010 was granted University College title, becoming BPP University College of Professional Studies Ltd. BPP became part of the Apollo Group in 2009. Visit BPP at http://www.bpp.com.
BPP has registered its new name at Companies House - see http://wck2.companieshouse.gov.uk/3fc3b895eea28fdf089fb67d5c9ab151/companysearch?disp=1&frfsh=1279712228#result.
About BIS
The Department for Business, Innovation and Skills (BIS) is building a dynamic and competitive UK economy by: creating the conditions for business success; promoting innovation, enterprise and science; and giving everyone the skills and opportunities to succeed. To achieve this it will foster world-class universities and promote an open global economy. BIS - Investing in our future.
BIS' online newsroom contains the latest press notices, speeches, as well as video and images for download. It also features an up to date list of BIS press office contacts. See http://www.bis.gov.uk/newsroom for more information.
Notes to Editors
Contact Information
Name BIS Press Office Job Title
Division COI Phone
Fax
Mobile
Email NDS.BIS@coi.gsi.gov.uk
Name Lucy Bell Job Title
Division Department for Business, Innovation and Skills Phone 020 7215 5361 Fax
Mobile
Email Lucy.Bell@bis.gsi.gov.uk
Published 26 July 2010