Willetts: new qualification is an extra rung on the ladder of opportunity
"BTECs that are equivalent to GCSEs and A levels lead to higher earnings because employers respect them. But students cannot currently study…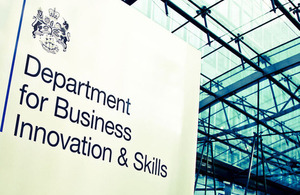 "BTECs that are equivalent to GCSEs and A levels lead to higher earnings because employers respect them. But students cannot currently study BTECs at a higher level.
"So I am delighted that, after discussions with Pearson, this will now change. There will be a new rung on the ladder of opportunity. Further education colleges, universities and other training providers will be able to offer this tried-and-tested qualification at a higher level for the first time. Students, employers and the economy all stand to benefit.
"In the forthcoming higher education White Paper, we want to make it easier to award new high-quality and affordable degrees like BTECs. This is the key to extending opportunity, improving social mobility and raising skills."
Notes to editors:
---
The Government's Strategy for Skills is available at: www.bis.gov.uk/news/topstories/2010/Nov/skills-for-sustainable-growth

Mr Willetts was speaking at the Technical Education for the 21st Century conference in central London, hosted by The Gatsby Charitable Foundation.

Pearson already offers BTEC Higher National Certificates and Higher National Diplomas (HNDs) in vocational subjects, which are typically studied in FE colleges for one and two years respectively. HNDs are the equivalent of a foundation degree. The first phase of Pearson's vocational degree programmes will be developed in four subjects - business, engineering, information technology and health and social care - and will be piloted from September 2011. Further qualifications are planned in Law, Nursing, Education and Hospitality and Tourism. Pearson will be working with a higher education institution with degree-awarding powers to develop its degree-level BTEC.

A White Paper on higher education reform will be published next year.
---
BIS' online newsroom contains the latest press notices, speeches, as well as video and images for download. It also features an up to date list of BIS press office contacts. See [http://www.bis.gov.uk/newsroom](http://www.bis.gov.uk/newsroom) for more information.
Notes to Editors
Contact Information
Name BIS Press Office Job Title
Division COI Phone
Fax
Mobile
Email NDS.BIS@coi.gsi.gov.uk
Published 14 December 2010