News story
Willetts comments on latest UCAS application figures
"Even with a small reduction in applications, this will still be a competitive year like any other as people continue to understand that University…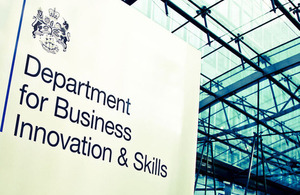 "Even with a small reduction in applications, this will still be a competitive year like any other as people continue to understand that University remains a good long-term investment in your future. And it is still not too late to apply, last year over 100,000 students applied after the January deadline.
"It is important that people have the information they need to make life-changing decisions about their future. Our very successful student finance tour also reached more than 145,000 students and parents to make sure they had the facts about our new student finance system. We have also asked universities to ensure that transparent, comparable information is available for prospective students. "
Over 250,000 18 year olds have already applied to university. The UK 18-year old population peaked in 2009. It has fallen by 9,000 this year so we cannot expect continued growth in actual applications. However, the application rate which allows for changes in the population has held up with only a 1% drop.

The application rate for people from the most disadvantaged backgrounds is holding up with only a 0.2 % drop.

The 19-year old cohort is smaller this year and there were an additional 14,000 18-year old accepted applicants for entry in 2011 compared to the previous two years. If these 14,000 had not got a place in 2011 and applied in 2012 as 19 year olds, it would account for nearly all of the reduction - before even considering demography.

The drop in mature applicants could be down to greater reluctance to study full-time, given the current position of the labour market. Part-time students, who are not included in today's figures, will be able to access tuition loans from the Government for the first time on the same terms as full-time students. This offers a good alternative for mature students who wish to stay in work.

During periods of reform, we expect year-on-year trends to fluctuate. We saw this in 2006 (when a 2.9% reduction in English domiciled applicants was followed by a 6% increase the following year). Similarly, both 2011 and 2012 will be unusual years. 2011 figures show a significant increase in accepted applicants - which would naturally mean a smaller pool of potential applicants in 2012 than would otherwise have been the case.

Under the new student support arrangements, most new students will not pay upfront, there will be more financial support for those from poorer families and everyone will make lower monthly loan repayments than they do now once they are in well paid jobs.

Our Student Finance School and College Tour has been hugely successful. To date the tour has visited 2,010 (or 87%) of schools and colleges with 6th Form provision, reaching in excess of 147,000 students and over 7,000 parents. This number is set to rise with the Tour running through to 3 February.

Going to university has always been a competitive process. For decades, there have been more applications than places and this will be repeated this year.

Whilst the main deadline for applications was January 15th, applicants can still apply to UCAS until the 30th June in the usual way, with the Clearing process occurring later on in the year. It is not too late to apply for a university place. Every year since 2005 around 100,000 applicants have applied through UCAS after the January deadline.

Universities charging more than £6,000 for tuition will have to do more to attract applications from under-represented and disadvantaged groups. Universities plan to spend over £620 million - 50 per cent more than they do already - on increasing the number of students from disadvantaged backgrounds from 2015/16.

But we know that higher education isn't for everyone. That's why the Government is expanding and improving our apprenticeship scheme, including by creating thousands of degree-level apprenticeships.

Last month we announced the successful bidders to the Higher Apprenticeship Fund, which supports the creation of degree-level apprenticeships. Employers and training providers have pledged to make 19,000 places available in sectors including construction, advanced engineering, insurance and financial services.
---
Notes to editors:
BIS's online newsroom contains the latest press notices, speeches, as well as video and images for download. It also features an up to date list of BIS press office contacts. See http://www.bis.gov.uk/newsroom for more information.
Notes to Editors
Contact Information
Name BIS Press Office Job Title
Division COI Phone
Fax
Mobile
Email NDS.BIS@coi.gsi.gov.uk
Name Emma Griffiths Job Title
Division Department for Business, Innovation and Skills Phone 020 7215 5982 Fax
Mobile
Published 30 January 2012