News story
Willetts comments on HEFCE recurrent grants 2011-12
"Next year will be a year of transition to a new funding regime where more teaching funding will follow the choices of students. We recognise…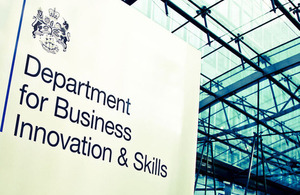 "Next year will be a year of transition to a new funding regime where more teaching funding will follow the choices of students. We recognise the vital role that higher education plays, which is why revenue funding for teaching and research in higher education could rise by nearly 10 per cent in cash terms by 2014-15.
"These changes will support a more diverse sector, where the choices of informed students provide a drive towards high quality teaching and efficient use of resources."
Notes to editors
BIS' online newsroom contains the latest press notices, speeches, as well as video and images for download. It also features an up to date list of BIS press office contacts. See http://www.bis.gov.uk/newsroom for more information.
Notes to Editors
Contact Information
Name BIS Press Office Job Title
Division COI Phone
Fax
Mobile
Email NDS.BIS@coi.gsi.gov.uk
Name Lucy Bell Job Title
Division Department for Business, Innovation and Skills Phone 020 7215 5361 Fax
Mobile
Email Lucy.Bell@bis.gsi.gov.uk
Published 17 March 2011