News story
Willetts comments on HEFCE circular letter to institutions
"Under the new HE reforms we are putting funding in the hands of students, instead of a centrally allocated grant. By 2014-15 we expect public…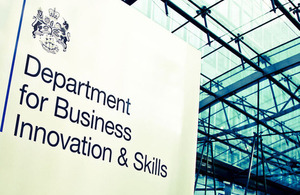 "Under the new HE reforms we are putting funding in the hands of students, instead of a centrally allocated grant. By 2014-15 we expect public support for universities to rise by 10%, as institutions that attract students through high quality courses are given the ability to thrive. It is essential that universities move quickly to prepare for the different environment in which they will operate in future years, striving to meet the aspirations of students for high quality teaching.
"As well as benefiting from investment in student support, the HE sector will continue to benefit from sustained ring-fenced investment in science and research."
---
Notes to editors:
BIS' online newsroom contains the latest press notices, speeches, as well as video and images for download. It also features an up to date list of BIS press office contacts. See http://www.bis.gov.uk/newsroom for more information.
Notes to Editors
Contact Information
Name BIS Press Office Job Title
Division COI Phone
Fax
Mobile
Email NDS.BIS@coi.gsi.gov.uk
Name Lucy Bell Job Title
Division Department for Business, Innovation and Skills Phone 020 7215 5361 Fax
Mobile
Email Lucy.Bell@bis.gsi.gov.uk
Published 2 February 2011