Wildcat begins sea trials with Iron Duke
The successor to the trusty Lynx, which has served the Navy and the Army admirably since the 1970s, will spend the next month flying on and …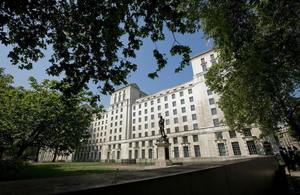 The successor to the trusty Lynx, which has served the Navy and the Army admirably since the 1970s, will spend the next month flying on and off HMS Iron Duke in the English Channel as part of its most extensive trials yet.
Wildcat is the next generation of light multi-role helicopter to serve both the Army and the Navy in the future. The Navy variant of the Wildcat will be the mainstay of helicopter operations from Royal Navy destroyers and frigates, with 28 ordered for the Fleet Air Arm.
Although the aircraft looks similar to its predecessor - with the exception of its distinctive tailplane which improves the helicopter's stability - Wildcat's characteristics are sufficiently different from Lynx to warrant extensive flight trials, setting the parameters within which it can safely operate.
Wildcat has gone to sea before, landing on the back of aviation training ship RFA Argus off the south coast of England back in November 2011.
And the prototype ZZ402 paid a brief visit to HMS Iron Duke just before Christmas, when pilots and technicians tested some of the basics.
Those trials were carried out with the ship stationary in Portsmouth Naval Base. For the 'Ship Helicopter Operating Limits' trials currently underway, Iron Duke and Wildcat have put to sea.
A team of more than 30 experts has joined the Type 23 frigate for the evaluation; the ship has also been fitted with specialist instruments to record every aspect of the trials.
Initially the trials will take place in Lyme Bay, before Iron Duke sails increasingly westwards, not least searching for rough weather to help define the helicopter's operating limits 'over the full envelope of operations' (i.e. payloads and weights carried by Wildcat in all manner of climatic conditions).
The trials should take until around early February 2012 after which around nine months is required to analyse and evaluate all the information gathered.
Published 12 January 2012