World news story
Why Palestinian women and girls deserve our respect and support
The UK's partnership with Palestinian women, is delivering real results on the ground. However, there is still much more to do.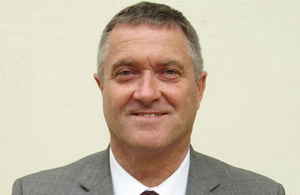 Only a political process, led by brave and visionary Palestinian and Israeli leaders, will resolve the Israeli-Palestinian conflict and accord to Palestinians the rights and freedoms that they deserve. Meanwhile, as the negotiations continue, people need the hope of a better life. Today, on the occasion of International Women's Day, I want to address one half of the Palestinian population: women and girls.
The wisdom, patience and steadfastness of Palestinian women are evident. Women are critical to building a state and to the economic prosperity and social wellbeing of any country. Their voice is sometimes drowned out by the loud voices of men.
The British Secretary of State for International Development, Justine Greening, recently set out the UK's commitment to improving the everyday lives of girls and women here and across the world. Our commitment is to challenge social norms and behaviour which perpetuate violence and inequality, to support women's ability to speak out safely and to strengthen the legal frameworks which protect women's rights.
The UK's Palestinian Gender Strategy sets out our plans to deliver the Secretary of State's vision, in partnership with the Palestinian Authority (PA). The PA published a National Gender Strategy and a strategy to combat gender violence in 2011. These strategies are welcome, but their impact will only be felt if they are implemented systematically.
The UK's development programme in the Occupied Palestinian Territories prioritises women and girls in two ways. The first is a focus on protection, security and justice. We are supporting the Palestinian Civil Police to strengthen the way it responds to family violence, to improve women's access to justice and we are helping the PA to challenge and prevent violence against women. We work with the United Nations Relief and Works Agency for Palestine Refugees in the Near East (UNRWA), which works to tackle gender-based violence. We also fund the Norwegian Refugee Council, which works to improve access to legal assistance in family law for vulnerable women.
The second element of UK support to Palestinian women and girls is focused on the social and economic empowerment of women. Critical to this is the financial assistance we provide regularly and predictably to the PA and to UNRWA. In 2013-14, the UK is providing over £40 million to the PA. These funds are part of our pledge to provide almost £130 million from 2011-15 to help the PA run its hospitals, schools and welfare and police services, all of which are critical to women and girls. Pregnant women can access antenatal care through PA-managed health clinics, and more girls can – and do – attend primary and secondary schools. The UK is also funding the delivery of key services to Palestinian refugees through our contribution of £106.5m over four years to UNRWA. Our support is enabling 6,000 pregnant women to attend at least four antenatal classes each year and at least 36,000 refugee girls and boys to attend school.
UK assistance, channelled through the PA, provides cash transfers to 7,000 of the poorest people in the Occupied Palestinian Territories. Our core funding to UNRWA supports cash transfers for 20,000 vulnerable refugee households. A significant proportion of the beneficiaries are women. One of them is Farida, a 65–year-old widow from Jenin, who suffers from impaired vision and hypertension, and is the sole carer for her daughter, who has Down's Syndrome. Farida's job in a nearby village allowed her to support the family after her husband's death, but sadly she was unable to work after a car crash. Life was hard both financially and socially. Having a disabled child can still carry an undeserved social stigma, which we are working with the PA to combat. Farida applied to the Ministry of Social Affairs' Cash Transfer Programme. She now receives up to NIS 1,000 and food aid every month. Life changed for the better immediately.
Another recipient is Rafiqa, also a widow from Jenin. Cash transfers and additional support allowed her to go from selling milk products from her sheep to owning a small supermarket. When asked about the Cash Transfer Programme, Rafiqa said:
"I became a better woman. There is nothing better in life than eating as a result of your hard work and not relying on others to feed you."
The UK's partnership with Palestinian women, through the PA and UNRWA, is delivering real results on the ground. There is much more to do. We want to help Palestinians – women and men – as they come together to build a peaceful, prosperous and independent state. Gender equality is key to this endeavour. The UK will play its part in helping the Palestinian people's own admirable efforts to achieve and sustain equality.
Published 8 March 2014
Last updated 8 March 2014
+ show all updates
Added translation
First published.