Whole life orders: Ian McLoughlin
Statement from the Attorney General as triple killer has sentence increased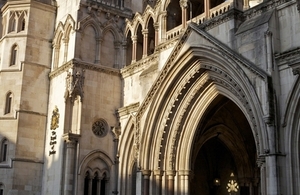 Judgment has been handed down today in the case of Ian McLoughlin, which was referred to the Court of Appeal by the Attorney General Dominic Grieve QC MP as being potentially unduly lenient.
The Court found that the sentence was unduly lenient, and a whole life order has been substituted.
Reacting to the judgment, the Attorney General, Dominic Grieve QC MP said:
I am pleased that the Court of Appeal has today confirmed that those who commit the most heinous crimes can be sent to prison for the rest of their lives.

As someone who has killed three times, Ian McLoughlin committed just such a crime, and following today's judgment he has received the sentence that crime required.

I asked the Court of Appeal to look again at McLoughlin's original sentence because I did not think that the European Court of Human Rights had said anything which prevented our courts from handing down whole life terms in the most serious cases. The Court of Appeal has agreed with me and today's judgment gives the clarity our judges need when they are considering sentencing cases like this in the future.
Background
Ian McLoughlin had a previous conviction for manslaughter in 1984, a conviction for murder in 1992, and the murder for which he was being sentenced was committed in the course of robbery.
The Attorney General referred Ian McLoughlin's 40 year sentence to the Court of appeal in November 2013. 40 years is the highest sentence ever referred to the Court of Appeal under the Unduly Lenient Sentence scheme.
The case was heard in front of the Lord Chief Justice, Sir Brian Leveson, Lady Justice Hallett, Lord Justice Treacy and Mr Justice Burnett.
Media enquiries 020 7271 2440
Published 18 February 2014