World news story
Who are the migrants arriving in Italy?
Ambassador Jill Morris hosted an event to present the results of a study on migrants' profiles, drivers of migration, and migratory trends.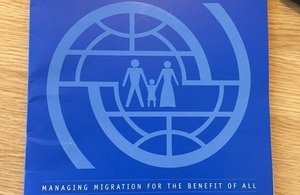 The study, commissioned by DfID, was carried out by the International Organization for Migration's Coordination Office for the Mediterranean (IOM) in collaboration with the European University Institute (EUI) in Fiesole.
Panelists included Prefect Rosetta Scotto Lavina, from the Ministry of the Interior, Mrs. Paola Cogliandro, from the Italian Ministry of Foreign Affairs and International Cooperation and Federico Soda, Director of the IOM Coordination Office for the Mediterranean.
EUI researchers conducted 1,031 interviews in different reception centres and informal settlements in Italy to gather information on previous working experiences, level of education, professional qualifications and personal ambitions of migrants arriving in Italy.
"The number of migrants in 2016 is in line with the arrivals registered in the same period last year", explained Federico Soda, "but the nationality composition of migrants arriving to Italy is changing. We are witnessing fewer arrivals from the Horn of Africa and the Middle East, while the number of Western African migrants keeps increasing."
According to the research findings, 62% of the interviewees did not leave their country of origin with the aim of reaching Europe, as many of them were initially interested working in Libya, but had to flee the country becasue of violence. A few years ago, it was very likely for migrants arriving in Italy to continue their journey towards Northern European countries, while today there is a larger number of migrants who wish to stay in Italy.
According to the interview findings, a significant number of migrants have been engaged as semi-skilled workers in different occupational fields, and especially in the construction and mechanics sector, agriculture, and in the fishing industry.
OIM Italy director Federico Soda commented:
It is necessary to provide legal entry opportunities for working purposes for migrants through the recognition and validation of both academic and vocational qualifications of incoming migrants and, possibly, through the establishing of training or professional re-qualification courses. The findings show that data collection activities on incoming flows of migrants are extremely useful and should be conducted on a timely basis.
The full text of the research will soon be available in English and Italian on the website of the Italian IOM Mission.
Document information
Published: 26 September 2016