Press release
What's inside that building?
The Ministry of Defence (MOD) is looking for new and novel technologies to help look inside buildings of interest.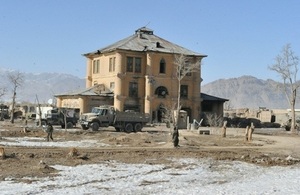 Knowing what's happening behind closed doors, where terrorists could be concealing their activities, could be of vital importance for the defence and security of the UK.
The MOD's Defence Science and Technology Laboratory (Dstl) is holding a competition through its Centre for Defence Enterprise (CDE), with total funding of £650,000 for phase-1 projects.
At the end of phase 1, up to £500,000 of additional funding will be made available for successful projects.
Dstl is looking for technologies and methods that can work remotely at distances of more than 100 metres. Of interest are non-standard technologies and approaches that contribute substantially to developing an understanding of what's inside a building.
For this competition, Dstl is not interested in established techniques for sensing through walls, such as hand-held radar sensors, or for technologies that provide a limited amount of information about a building's interior.
Those who receive funding will be asked to demonstrate their technology at a stakeholder event in September 2016.
A launch event for the competition is taking place at The Grand Connaught Rooms, London, on 9 July 2015. A webinar will follow on 16 July 2015.
The competition will close on 10 September 2015 at 5pm.
Published 17 June 2015