Press release
Westleigh flood risk management scheme well under way
As part of the Environment Agency's work to reduce flood risk, construction is well underway on Westleigh Brook.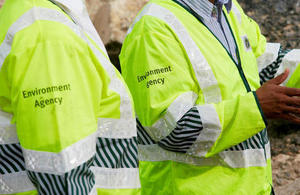 The works include the removal of Clifton Street Bridge, building raised walls and an embankment, and modifications to Sportsman Street Bridge.
This scheme will reduce the risk of flooding to 230 residential properties from Clifton Street to the Leeds-Liverpool Canal, at a cost of £3.5million.
Westleigh Brook has a history of flooding, with properties affected in 2002 and coming close again in 2015. As well as reducing the risk of flooding, the scheme will provide a fish easement and improved access for a local business.
The most recent work has included the redirection of gas and water pipes and work on the bridge. Construction of the flood walls will also commence shortly.
The Environment Agency recently held a community drop-in session to talk to residents about the ongoing works and help with any concerns they have. The event received some good feedback, with residents feeling positive about the benefits the finished scheme will provide for the local area.
Flood Risk Manager for the Environment Agency, Mark Garratt, said:
We appreciate everyone's patience and support during the construction phase.

The Environment Agency is committed to reducing the risk of flooding and we are pleased to be able to bring forward this scheme and tackle the risk of flooding in this community.

Getting out and speaking to the community is something that we value when constructing major schemes. It's important that local people are aware of what we are doing and have an opportunity to raise any concerns and feed in their views. We are extremely pleased to hear the positive feedback from residents so far.

We have installed a project notice board and will regularly post project updates such as newsletters and programmes for the local community's information.

We want to make sure people are kept informed throughout the construction phase and are completely clear about what we're doing and why we're doing it.
Published 10 August 2016