News story
West London businesses face fines following raids
Immigration Enforcement raids in West London mean businesses could be handed civil penalties.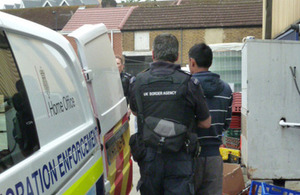 Businesses in West London are facing potential fines of up to £10,000 each following raids by Home Office Immigration Enforcement officers.
Acting on intelligence, officers visited Devi Foods Ltd on Hartington Road, Southall, and Sky Express Cars on Springfield Road, Hayes, on Friday 28 June where individuals were questioned to check if they had the right to be in the UK.
At Devi Foods, which was visited at around 7am, they arrested a 24-year-old Indian man who was working in breach of his visa conditions.
Officers then moved on to Sky Express Cars at around 9am where they arrested a 27-year-old Pakistani man who had overstayed his visa.
Detained
The Indian man has been detained pending removal from the UK while the Pakistani man has been placed on immigration bail while work continues on his case. If he is found to have no right to be in the UK he also faces removal from the country.
The businesses were served notices warning that a civil penalty of up to £10,000 per illegal worker will be imposed unless proof is provided that the correct right-to-work checks were carried out.
Paul Wylie, head of Home Office Immigration Enforcement in London and South, said:
We are targeting illegal working and illegal migration in all its forms and I hope this raid sends out a strong message, both to those who are here illegally and those who would employ them.

If you have come here illegally or have over-stayed your visa it is time to leave. Those arrested by our enforcement teams face being detained until they are removed and will be banned from returning to the UK.

If you are a business you must carry out the correct checks on your staff or you could end up with a heavy fine.
Employers unsure of the steps they need to take to avoid employing illegal workers can get more advice online or they can call the Employers Helpline on 0300 123 4699.
Published 28 June 2013