West Bay community winter storms drop in
Residents of West Bay, Dorset are invited to a drop-in session tomorrow (10 April), 4pm to 7pm, to talk about the winter storms and floods.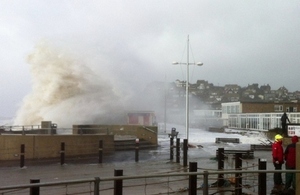 If you live in West Bay, Dorset, or the surrounding area and were affected by the severe storms and flooding during the winter, the Environment Agency, West Dorset District Council, Dorset County Council and the Communities Living Sustainably Project team would like to hear from you.
This drop-in event takes place at The Salthouse tomorrow (10 April) from 4pm to 7pm, and is being hosted by the Dorset Coastal Forum, with officers from all the partner organisations on hand to hear your thoughts and feelings about the flooding, the emergency evacuations and flood warning systems. There will also be an exhibition explaining the damage caused by the storms and the emergency work being done to repair it.
Neil Watson, coastal engineer for the Environment Agency, said:
We appreciate the last few months have been particularly difficult for the community. The coastal storms over the last couple of months have seen some of the most severe weather and sea conditions for a considerable time. They have had significant impacts all the way along the Dorset Coast.
All organisations involved will be on hand to answer any questions residents may have about recent events and to collect peoples' stories and concerns. We encourage everyone from West Bay and surrounding areas to come along and join the discussion.
ENDS
For more information about the event, please call the Dorset Coast Forum on 01305 224833
Published 9 April 2014