Press release
Wensleydale cheese joins a top line-up of protected festive foods
Yorkshire Wensleydale is the latest in a host of UK festive foods to be awarded an international title to protect its heritage today.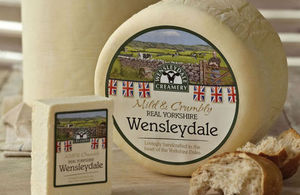 Being granted Protected Geographical Indication status (PGI) from the European Commission ensures that Yorkshire Wensleydale is produced in the designated area in accordance to the time honoured traditional recipe, giving consumers certainty about the authenticity of the cheese they are buying.
Cheese lovers can enjoy a board packed with British favourites all with protected Food Name Status (PFN) including Blue Stilton, Dorset Blue and Orkney Island Cheddar, as well as Yorkshire Wensleydale, all of which can be washed down with a glass of protected Kentish Ale or Herefordshire Cider.
It doesn't stop there; revellers really wanting to indulge in a feast of British classics could serve a full Christmas spread of PFN products, including Traditional Farm Fresh Turkey, Fal Oysters, Scottish Farmed Salmon, Scotch Beef, and Armagh Bramley Apples.
Farming Minister, George Eustice said;
We have a wealth of food across the UK which we all enjoy that deserve to be celebrated. The Protected Food Name Scheme is a great way to champion our favourite produce and preserve our outstanding heritage. I look forward to seeing more UK food names added to that register next year.
2013 has been a great year for UK registrations, with 7 regional products including Fenland Celery, Stornoway Black Pudding and Lakeland Herdwick added to the EU's growing PFN register.
Although not just for Christmas, of the UK's 59 PFNs, there are many products which are enjoyed over the festive season that display the EU PFN status on their packaging, which officially recognises the tradition, heritage and recipes which have created them. The PFN system gives traditional foods and recipes legal protection against imitation through the EU.
Protected Food Names Christmas Dinner Menu
Starters
Pan fried oysters from Fal (PDO)
Smoked Scottish Farmed Salmon (PGI)
Main courses
Roast Traditional Farm Fresh Turkey (TSG) with all the trimmings including Newmarket Sausages (PGI)
Pork wellington with Traditionally Farmed Gloucestershire Old Spots Pork (TSG) with Stornaway Black Pudding (PGI)
Desserts
Apple and rhubarb crumble made from Armagh Bramley Apples (PGI) and Yorkshire Forced Rhubarb (PDO), served with Cornish Clotted Cream (PDO)
Cheeseboard
A selection of cheeses including Brecon Fell Lancashire (PDO), Blue Stilton (PDO), West Country Farmhouse Cheddar (PDO), Yorkshire Wensleydale (PGI) and Swalesdale (PDO). Served with Fenland Celery (PGI) and Melton Mowbray Pork Pies (PGI)
Party drinks
Gloucestershire Cider (PGI) and Perry (PGI)
Herefordshire Cider (PGI) and Perry (PGI)
Kentish Ale (PGI)
Rutland Bitter (PGI)
A full list of the UK's Protected Food Names is available.
In 1993 EU legislation came into force which provides for a system for the protection of food names on a geographical or traditional recipe basis.
The EU Protected Food Name (PFN) scheme highlights regional and traditional foods whose authenticity and origin can be guaranteed. The product is awarded one of three marks: Protected Designation of Origin (PDO); Protected Geographical Indication (PGI); and Traditional Speciality Guaranteed (TSG).
Producers who register their products for protection benefit from having a raised awareness of their product throughout Europe. This may in turn help them take advantage of consumers' increasing awareness of the importance of regional and speciality foods.
Published 19 December 2013