Press release
Welsh Secretary sets out devolution vision for Wales
Stephen Crabb: "I want to secure the best possible devolution settlement for Wales."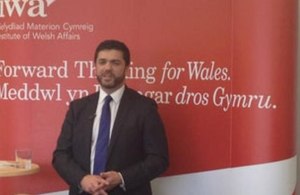 Welsh Secretary Stephen Crabb today (17 November) set out his vision to create a lasting devolution settlement that works for the people of Wales.
Mr Crabb said he was committed to delivering the Prime Minister's pledge that following the Scottish referendum Wales would be at the heart of the devolution debate.
In his speech at the Institute of Welsh Affairs in Cardiff, Mr Crabb said he wanted to settle the key questions on Welsh devolution and would:
Produce a "reserved powers model" of Welsh devolution with the law clearly setting out which responsibilities are devolved to Wales and which remain at Westminster.

Hold talks between HM Treasury, the Welsh Government and the Wales Office to look again at the issue of fair funding to ensure that Wales gets the right level of funding to deliver devolved services.

Start discussions with the Welsh Government on Silk II recommendations, including those that need primary legislation.

Consider proposals from the Smith Commission for Scotland in relation to Wales.
Mr Crabb is also leading a series of meetings with Westminster leaders from the three main political parties in Wales to secure broad cross-party agreement on the future shape of Welsh devolution.
Mr Crabb said: "I want us to use this opportunity, this unique moment in our nation's history, to look positively at how we secure the best possible devolution settlement for Wales.
"I want to move forward in a realistic, open-minded and pragmatic way. And at the end of it I want a devolution settlement for Wales which is stronger, more balanced and which works for the people of Wales."
Mr Crabb added: "Only by working together across the political spectrum can we can show the people of Wales that we're serious about strengthening devolution and making it work.
"By St David's Day next year we will publish a blueprint, signed up to by all four main parties in Wales, for taking forward Welsh devolution in the next Parliament.
"Parties may go further in their election commitments but my promise to the people of Wales is this – whoever you elect next year you will know what further powers will be coming to Wales and you will know what a reserved powers model will look like."
Last month, Mr Crabb announced the UK government would amend the Wales Bill to remove the "lock-step" to enable the Welsh Assembly to set different rates of income tax for each tax band, subject to a referendum. The new income tax powers are a tool to help the Welsh economy become more dynamic and make Welsh Government more accountable.
Read Mr Crabb's full speech here
Published 17 November 2014