Press release
Welsh Secretary responds to Labour Market Statistics
Further increase in employment levels in Wales are positive signs of economic recovery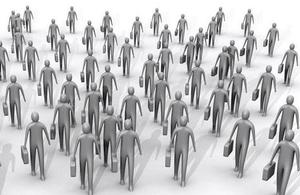 The latest employment figures published by the Office for National Statistics today (16 October) show that Wales is continuing on the path to economic recovery, says the Secretary of State for Wales, David Jones.
The figures show a further increase in employment in Wales over the last quarter, with 11,000 more people in work. Unemployment in Wales is down by 1,000 and with youth unemployment also seeing a welcome fall.
The number of people claiming Job Seekers Allowance in Wales has fallen by 2,100 since August 2013 and is 10,100 lower than in September last year. Economic inactivity in Wales has also decreased over the quarter by 3,000.
Secretary of State for Wales, David Jones said:
Another month of improved employment statistics shows that this Government is setting the conditions for growth, and that we are beginning to see the benefits in Wales.

The fall in youth unemployment figures is particularly welcome. Earlier this week, I saw an excellent example of young apprentices working in one of Wales's leading manufacturing companies. The skills and capabilities they, and other young people in work programmes, are developing today, will play a key part in driving growth across the UK in the years ahead.

Over the last month, I have seen first hand how businesses in Wales having been stepping up to the challenge. From the impressive Fast Growth 50 award winners, to medical start-up companies exporting their products and services worldwide, we have an abundance of small businesses here in Wales that are displaying the drive and ambition needed to propel the economy to recovery.

Entrepreneurs across the country will also now be able to secure crucial UK Government funded support in the form of a repayable loan together with a business mentor, to help get their business ideas off the ground. The Start Up Loan scheme has been hugely successful in England. I now want to see this replicated in Wales and see Welsh businesses benefitting from this new opportunity that has now been offered to them.

Wales needs real growth that will last, based on a more efficient, business-friendly and rebalanced economy. However, there is no room for complacency. Yesterday's announcement from First Milk of proposed closure of their Wrexham site was a sobering reminder that there are still considerable challenges ahead.

We must ensure we maintain close relations with businesses on the ground in Wales and focus on retaining and creating jobs, and attracting new business opportunities across the country.
Published 16 October 2013
Last updated 17 October 2013
+ show all updates
Welsh translation added

First published.