Press release
Welsh Secretary: Hinkley agreement signals renaissance of nuclear in the UK.
Announcement a 'positive step forward' for new nuclear development on Anglesey.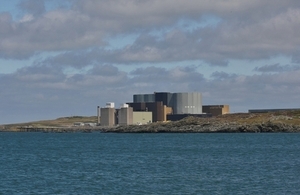 The agreement to construct the first new nuclear power plant in the UK in 20 years at Hinkley Point signals the start of a renaissance in British nuclear power generation, said the Secretary of State for Wales, David Jones.
The UK Government and EDF Group have today (21 October) reached commercial agreement on the key terms of a proposed investment contract for the Hinkley Point C nuclear power station in Somerset.
The Secretary of State highlighted today's announcement as a strong signal of the Government's commitment to new nuclear, and a positive step forward for new nuclear development at Wylfa on Anglesey.
In October last year, Japanese technology firm Hitachi –GE Nuclear Energy Ltd announced that it had acquired Horizon Nuclear Power, and planned to develop up to 7.8GW of new nuclear capacity in the UK at sites in Wylfa on Anglesey and Oldbury in Gloucestershire.
The Generic Design Assessment (GDA) process - which makes a detailed examination of all aspects surrounding nuclear reactors – is already underway.
Secretary of State for Wales, David Jones said:
Today's announcement at Hinkley Point will provide the added impetus for Wales to exploit its own energy potential. It underlines the UK's position as one of the most attractive electricity investment markets in the world.
Hitachi's investment at Wylfa B offers significant potential benefits to the economy in Wales, and particularly on Anglesey, through increased high-quality employment and supply chain opportunities.
Indeed, 60% of the content value for the first plant will be sourced from within the UK, and I want to see Welsh businesses capitalising on these opportunities. It is important that we show we are amongst the very best suppliers, and demonstrate the quality of our work and the value we can offer.
During my visit to Japan earlier this year, I was able to get a clear understanding of the operation of Hitachi's global supply chain, and had the opportunity to highlight the strengths that Welsh businesses can bring to Hitachi's project. Companies can now register to be a part of the nuclear supply chain at Wylfa, and I would urge Welsh businesses to look at the opportunities available and register on the Horizon website their interest in being part of this important development.
Today's announcement that the UK Government and EDF Group have agreed a 'strike price' for Hinkley Point C will also come as welcome news for Hitachi and the proposed Wylfa development. Contracts for Difference will support investment in new low-carbon generation, by reducing the risks faced by generators by giving certainty about revenues.
The investment also brings excellent opportunities for the work force and for our young people. A new specialist training centre at Coleg Menai, which is benefiting from state of the art equipment provided by Hitachi, will help to train and inspire our young people so that they are ready to take up the opportunities the new power station will provide.
NOTES TO EDITORS
For further information, please contact Lynette Bowley at the Wales Office on 029 2092 4204 / lynette.bowley@walesoffice.gsi.gov.uk
For further information regarding the Hitachi investment in Wylfa, please see https://www.gov.uk/government/news/ministers-welcome-hitachi-new-nuclear-investment-programme
For further information on the Hinkley Point C announcement, please see https://www.gov.uk/government/news/hinkley-point-c
Published 21 October 2013
Last updated 22 October 2013
+ show all updates
Added translation
First published.