News story
Welsh Secretary: High-speed internet at heart of UK Government growth agenda
Writing for the Western Mail, David Jones underlines the UK Government's investment in broadband provision in Wales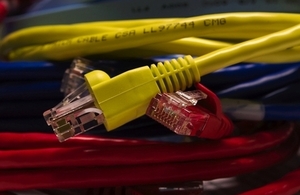 Superfast broadband is a key component of the Welsh economy's future economic success.
So whilst the UK Government will be providing faster train services for south Wales, has attracted investment for vital energy infrastructure, and is funding large-scale projects such as the new north Wales super-prison, it is also putting the provision of reliable high-speed internet at the heart of its economic growth agenda.
In the second decade of the 21st century, broadband is no longer a luxury, it is a vital for business and society at large, and is a critical stimulus to economic growth.
That is why the UK Government has provided almost £57 million to the Welsh Government in order to ensure that broadband access is available to homes and businesses in some of the hardest to reach parts of Wales.
The aim of the project, called Superfast Cymru, will be to ensure that 96 per cent of Welsh homes and businesses will have access to world class broadband speeds of up to 80Mbps by the end of 2015.
Roll out is already well underway – more and more communities are benefitting from this with around 3,000 new fibre broadband cabinets being deployed around Wales, and by the end of this month, over 47,000 premises in Wales will have access to superfast broadband.
In his 'Investing in Britain's Future' speech, the Chief Secretary to the Treasury also announced that Government will provide an extra £250 million of investment to extend coverage even further. We are currently exploring with industry how we can use more innovative fixed, wireless and mobile broadband solutions to reach at least 99 per cent of premises across the UK by 2018.
On a more localised level, we have invested £150 million to create super-connected cities. I am delighted that Cardiff and Newport will benefit from this investment which will enable them to compete with the World's top digital cities and attract new investment and jobs.
As someone who travels regularly across the length and breadth of Wales, I, in particular, have given a warm welcome to the further £150 million being made available to tackle mobile service 'not-spots'. This will see the A470, along with other roads across the UK, benefit from the deployment of new phone masts to allow access to mobile telephone and internet services where currently neither is available.
By 2015, we will have achieved a truly remarkable transformation in broadband provision in Wales. Speeds will be dramatically faster, and both fixed and mobile superfast broadband will be widespread. We will have transformed connectivity in the majority of Welsh rural communities.
This is probably the single most important thing we can do to ensure the sustainability of our rural communities and businesses.
Average rural internet speeds are increasing at a tremendous rate and local businesses are already starting to benefit from all that faster speeds have to offer. Our investment is already helping to ensure that they are not left in the slow lane when it comes to broadband access.
But it does not help to differentiate between rural and urban areas. We know that the internet is a fundamental part of our economy and we need to ensure that the whole of Wales has a broadband network fit for the digital age – no matter where you are.
Only last week, I visited a creative company in Cardiff Bay specialising in 3D animation and video presentations for multinational companies such as CNN and BP. While the company may be small in size, it is ambitious in its vision for long term growth in other overseas markets.
That is why getting the 'plumbing' right for our digital economy is essential for our growing digital and creative industries, all of whom need reliable high speed networks to develop and export their products as they move large digital files around the world.
But we need to ensure that the whole British economy enjoys the digital services and connectivity it needs to innovate and expand into new markets. Which is why this Government is delivering the broadband infrastructure and services we need to compete with the best in the world.
I am confident that we can realise our ambition for Wales to be a part of a world class connected country, a strong market for consumers, and a great place to do business.
It is only through the UK Government taking the holistic view for the UK that we can ensure the long-term future prosperity of Wales. This project is a prime example of how money from the UK Government can be combined with other funding to deliver for the people of Wales. It is this combination of firepower that will deliver the infrastructure investments and improvements that Wales so desperately needs.
The actions we have already taken will pave the way for even more infrastructure development, and I am fully committed to working with the Welsh Government to ensure this continues.
Ethernet cable image courtesy of tlsmith1000 on Flickr
Published 30 September 2013