Press release
Welsh Secretary embarks upon two-day visit to Scotland
22 March 2012 Welsh Secretary embarks upon two-day visit to Scotland The business and energy sectors were today (22 March 2012) the focus …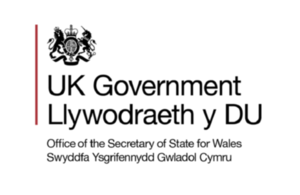 22 March 2012
Welsh Secretary embarks upon two-day visit to Scotland
The business and energy sectors were today (22 March 2012) the focus of the Secretary of State for Wales, Cheryl Gillan's two-day visit to Scotland hosted by the Scotland Office.
 
Mrs Gillan was accompanied by Scotland Office Minister, David Mundell on a visit to Burntisland Fabrications Ltd. (BiFab) - a Fife-based company producing major fabrications for the offshore oil, gas and renewable energy industries.
Secretary of State meets Scotland Office Minister David Mundell and Ian Potts BiFab project manager for Gwynt Y Mor 
The company has been tasked by RWE npower renewables to design and build two substations foundation structures for the Gwynt y Mor Offshore Wind Farm off the coast of North Wales. 
 
Mrs Gillan and the Minister next travelled to Glasgow where they met with senior officials from UKTi and senior representatives of the Scottish Development
International (SDI)  to discuss how to attract greater inward investment into Wales.
Representatives from the Scottish renewable energy sector then gathered to meet with the Welsh Secretary for a roundtable discussion on how the sector successfully operates in Scotland.
 
Mrs Gillan then accompanied the Secretary of State for Scotland, Michael Moore on a visit to CB Technology in Livingstone to highlight the reduction in corporation tax rate and the National Guarantee Scheme announced in yesterday's budget.
CB Technology is an electronics manufacturer which has recently expanded its premises as a result of support from RBS and is expanding into international markets.  
Speaking after the visits, Mrs Gillan said:
"The UK Government's goal is to make Britain the most attractive place to invest in energy and I was interested to see the significant strides that Scotland is making in this sector during my meetings today.
"In Wales our past strength and much of our history is based on energy and I firmly believe that Wales is still perfectly placed to welcome inward investment from the renewable energy sector.
 
"Indeed, we already have a lot to be proud of: new offshore wind developments like North Hoyle, Rhyl Flats and the forthcoming Gwynt y Mor are already showing our potential, but I want to ensure that - as recently outlined by the Welsh Affairs Select Committee - the UK Government and Welsh Government continue to work together effectively to maximise opportunities to attract inward investment to Wales, and improve the long term prospects of the Welsh economy."
 
Mr Moore said:
"I very much welcome the Secretary of State for Wales to Scotland. Her visit underlines the connections which bind the UK together, whether it is delivering technology for the renewables industry using our collective skills and innovation or attracting businesses to invest. We have seen a significant boost for business in the Budget and our visit to CB Technology in West Lothian highlighted the further help firms are set to receive through the National Loan Guarantee Scheme.
"Our announcements of a further reduction in corporation tax, support for the video games and oil and gas industries and extra money for job creating enterprise zones in Dundee, Irvine and Nigg, mean this Budget will benefit Scottish business and help generate the jobs we need."
RWE npower renewables managing director Julia Lynch Williams said: "The Secretary of State for Wales' visit to Scotland provides an excellent opportunity to build on the momentum of last week's energy statement, in which Welsh Government clearly acknowledged the importance of renewables and the energy industry to Wales' economic future.
"Following just a week later, this visit demonstrates an urgency and drive across all levels of the political spectrum to capture that spirit, to understand the good practice already demonstrated in Scotland, and to maximise the potential of the renewables industry on behalf of the Welsh economy.
"Our Gwynt y Mor Offshore Wind Farm has already enabled over £200million investment into the wider UK supply chain, including BiFab. We look forward to learning about any initiatives and actions which this visit may generate, to help unlock the potential of the renewables industry in Wales."
On Friday morning, Mrs Gillan will tour the site of GE Caledonian Ltd in Prestwick. Here she will meet with the management team to discuss future plans for the aviation services organisation, which has a major operation in Nantgarw in Cardiff.
Published 22 March 2012