Press release
Welsh Secretary demands a stronger and more ambitious education system in Wales
Stephen Crabb: "Welsh parents, pupils and teachers deserve better."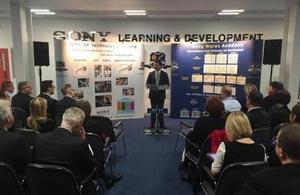 Welsh Secretary Stephen Crabb today (3 January 2015) called for Wales to have a "stronger, more ambitious, more innovative education in Wales"
In a speech at the Sony UK Technology Centre, a manufacturing facility in Pencoed, South Wales, he set out the skills challenge facing Wales and called on the Welsh Government to improve outcomes for young people in Wales.
Mr Crabb used the speech to explicitly link education standards to economic prosperity, challenging those who see public services, such as education, and the economy as two completely separate strands of policy.
He said that whilst it was true that a strong economy can fund good schools - education was not just a subset of 'public services', it is actually an integral part of the economic debate.
On schools, he said that it was unacceptable that OECD's international study of academic achievement showed that Wales was behind the rest of the UK and lower than the overall OECD average for reading, maths and science. He said that the Welsh Government needed to show evidence that they were focused on improving education standards in Wales.
And on universities he emphasised how crucial it was that Welsh universities were world class – not only to provide the next generation with the skills businesses need but also to work with businesses to develop the products of tomorrow.
However, Mr Crabb also expressed frustration that the number of Welsh students securing places at Oxford and Cambridge in 2013 fell to a new ten year low.
Stephen Crabb said:
In Westminster there has been twenty years of robust debate and argument about school standards, school structures, school leadership, parental choice – every aspect of the education system.

And while there have been some remarkable transformations through the academies programme, the Prime Minister is still willing to stand up on the side of parents and pupils and say that 'just enough is not good enough' and that we will not tolerate mediocrity and lack of ambition in the system.

That, I believe, is the kind of honesty and the level of commitment to education that business leaders and parents want to see from Welsh Ministers too. And the truth is that here in Wales it's not just a question of reforms not happening, we haven't even begun to have that debate.

Because strong leadership means asking these difficult questions and facing them head on. And it is no mark of love for Wales to try to shut down the debate and avoid robust argument.

Welsh parents, pupils and teachers deserve better.
Read Stephen Crabb's full education and skills speech here
Published 3 February 2015