Press release
Welsh Secretary calls for more power for local communities
Secretary of State for Wales addresses Society of Local Council Clerks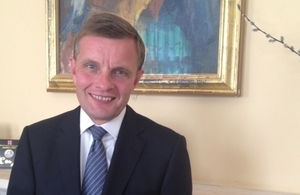 In a keynote speech to be delivered to the Society of Local Council Clerks (SLCC) today (18 September 2013), Secretary of State for Wales, David Jones will call on the National Assembly for Wales to do more to empower Welsh communities by giving local councils the tools to deliver for the people they serve.
Speaking at the annual SLCC conference at Venue Cymru in Llandudno, Mr Jones will underline the UK Government's strong commitment to giving people and communities the power to make the decisions that suit their circumstances.
He is expected to highlight the differences in approach to localism in England and Wales, and look at what more could be done to push down power to the local level in Wales.
From 'Eco Schools' in Pontypool, to charity events in Llay, Mr Jones will point to the existing good examples of local councils delivering services and projects that matter to the people in their communities.
But Mr Jones will say that community councils need to be empowered to do more, and will call on the National Assembly to examine the initiatives being implemented successfully in England, and consider adopting these in Wales.
He will say that "Wales' community councils and counterparts in County Councils are best placed to make decisions for [your] communities," and will urge the Assembly to use its powers "to give local people a voice in issues that matter to them."
Mr Jones speech comes exactly a year before the people of Scotland will be asked to make their choices between a continuing union or independence. During his address, he will underline his views that "all four nations of the UK are better and stronger together".
NOTES TO EDITORS:
1.Mr Jones will give the keynote speech at the Society of Local Council Clerks conference at Venue Cymru, Llandudno on Wednesday 18 September.
2.For further information, please contact the Wales Office Press Office on 029 2092 4204.
Published 18 September 2013