World news story
Welcome to the Embassy's new website
This website will provide you with information on the relationship between the UK and Turkmenistan, as well as services the Embassy can offer to British citizens and also Turkmen nationals looking to visit the UK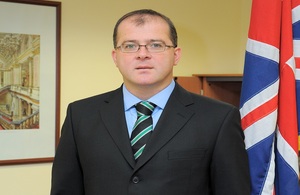 It is my pleasure to welcome you to the website of the British Embassy in Ashgabat, Turkmenistan. This website will provide you with information on the relationship between the UK and Turkmenistan, as well as services the Embassy can offer to British citizens and also Turkmen nationals looking to visit the UK.
Turkmenistan is important to the UK for a number of reasons. It is recognised as having the world's fourth largest reserves of natural gas, so is important to the UK and Europe for energy security. And the energy sector does of course present opportunities for UK companies to share their knowledge and expertise as Turkmenistan develops and diversifies its hydrocarbon sector. We also work with Turkmenistan to encourage the development of alternative and renewable energy.
Turkmenistan is also strategically located on the eastern shore of the Caspian Sea and with long borders with Afghanistan and Iran. On Afghanistan, we welcome the constructive role played by Turkmenistan through humanitarian and other assistance provided to the country.
No less important is the work we do to encourage progress on the development of international standards on human rights, democracy and good governance.
I look forward to doing what I can to continue developing the growing relationship between the UK and Turkmenistan, and hope that this website will be of assistance to the people of both of our countries.
Thank you and best wishes.
Keith Allan HM Ambassador
Published 24 March 2013