World news story
Welcome Home Event for the latest Chevening scholars
British Ambassador hosted Welcome Home event for the latest Chevening scholars on 15 March 2018.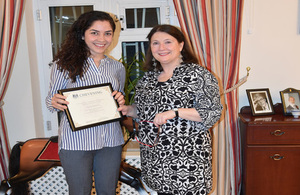 We always like to welcome our Chevening Scholars home. In what has now become a tradition, Thorda Abbott-Watt, the British Ambassador, invited the latest cohort to her Residence for an informal supper on 15 March. This offered the opportunity to congratulate Maksat, Kumush, Nargilya and Kurbanmuhammet on the successful completion of their postgraduate studies in the UK and to present them with their Chevening certificates. Members of the Chevening alumni from previous years were also invited to meet the returnees and welcome them to this exclusive club.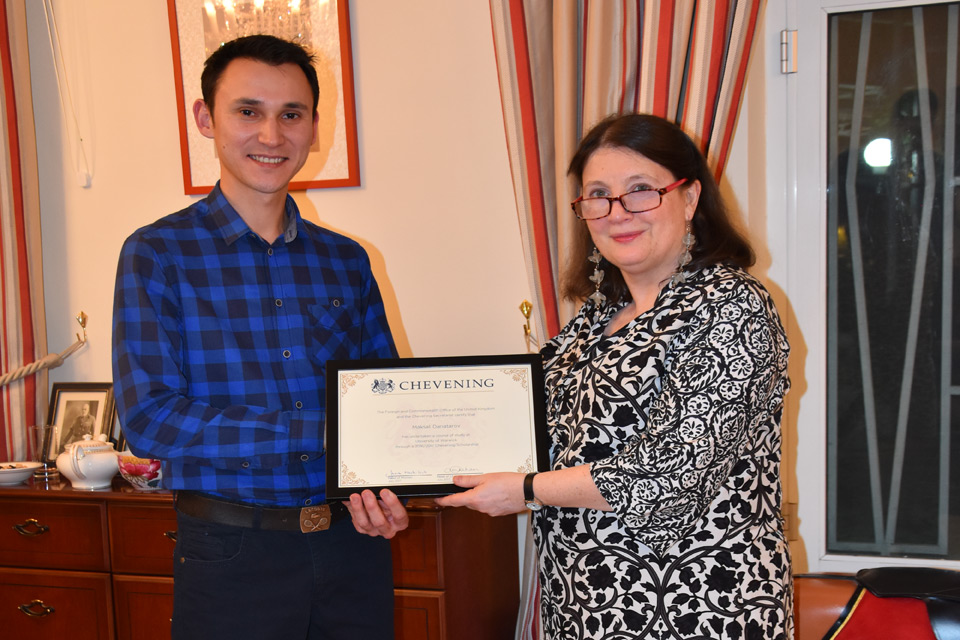 The Ambassador spoke of her pride in the Chevening programme and its role in shaping the future leaders across the world. She encouraged the Turkmen scholars to take every opportunity to use the global and regional alumni network to further their interests as well as their careers.
A few years ago Chevening scholars did not receive certificates to mark the completion of their studies. This seemed a bit hard, so the Ambassador initiated a further ceremony to present certificates to those scholars who had not had one before. Both the most recent and longer serving alumni therefore received the recognition they deserved. And for those who did not receive certificates on the night because they already had one, there was always supper!
Published 19 March 2018