Press release
Weekend roundabout closures for final stages of pinch point scheme
This weekend (6 - 9th February) the M180 Ings roundabout (M180 junction 1 / M18 junction 5) near Doncaster, South Yorkshire, will be closed as part of the work to complete a £4.5 million pinch point scheme at the junction.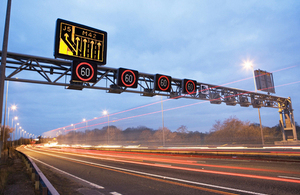 The main construction work started in autumn 2014 and this resurfacing work forms part of the final stages of the scheme.
Work will take place at the M180 Ings roundabout (M180 junction 1 / M18 junction 5).
There will be a full weekend closure from 8pm on Friday night until 6am on Monday morning – work will take place 24 hours a day. Over the weekend, parts of the carriageway will be fully reconstructed with associated new resurfacing and new road markings.
Traffic wishing to travel along the M180 East bound from junction 5 will first be diverted up to junction 6 and back.
Highways Agency Project Manager Steven Wright said:
The scheme will tackle peak-hour congestion on M180 westbound roundabout approach and in doing so will reduce the number of congestion related accidents.
It will also support local economic growth by unlocking land to help generate jobs and housing in the area.
The pinch point scheme has involved:
Widening/remarking northern overbridge to provide three lanes
Installing new traffic signals
Widening/remarking the M18 northbound entry and roundabout to provide four lanes
Provide the opportunity for future development off the roundabout near to the Motorway Service Area.
The work is part of a £317 million pinch point programme designed to boost local economies, reduce congestion and improve safety on the strategic road network in England. The programme is part of the Government's growth initiative, outlined during the Chancellor's Autumn statement in November 2011.
More information about the scheme is available on the Highways Agency website at www.highways.gov.uk/roads. Information on the pinch point programme can be found on the Highways Agency's website.
The Highways Agency is working with the industry and road users to reduce the risks of working on the roads. For the safety of road workers and all road users, when you are approaching roadworks:
Keep within the speed limit – it is there for your safety.
Get into the correct lane in good time – don't keep switching.
Concentrate on the road ahead, not the roadworks.
Be alert for works' traffic leaving or entering roadworks.
Keep a safe distance – there could be queues in front.
Observe all signs – they are there to help you.
General enquiries
Members of the public should contact the Highways Agency Information Line on 0300 123 5000.
Media enquiries
Journalists should contact the Highways Agency press office on 0844 693 1448 and use the menu to speak to the most appropriate press officer.
Published 2 February 2015