Press release
Weekend closure of the A2 at Bean for resurfacing
The coastbound A2 will be closed between the slip roads at Bean/Bluewater on Easter Sunday and Monday morning for essential resurfacing.
This news article was withdrawn on
This document is no longer current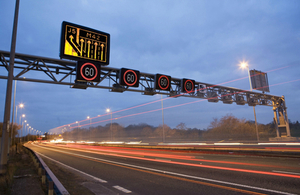 The closure on the coastbound A2 will begin at around midnight on Saturday 26 March (into Sunday) until around 10am on Monday 28 March, while Bluewater shopping centre retail shops are closed and traffic flows are lower than usual over the Easter weekend. The 1 mile closure is expected to add less around 5 minutes to journeys in free flowing conditions.
During the 34 hour closure, extensive resurfacing will be carried out which will be equivalent to over 20 nights work and able to reduce the scheme by almost a month. To further minimise disruption in the future, other maintenance, such as drainage cleaning and litter picking will also be carried out.
Highways England project sponsor Ed French said:
Resurfacing the A2 will provide drivers with safer and smoother journeys for the 130,000 drivers that use the road every day.

We have carefully planned this closure to minimise disruption. We know from previous years that traffic flows are low on Easter Sundays and with Bluewater shopping centre retail shops closed on Sunday we are expecting fewer vehicles than normal on the A2. We are using this opportunity to get as much of the work completed as possible in one go to reduce the overnight closures by around one month.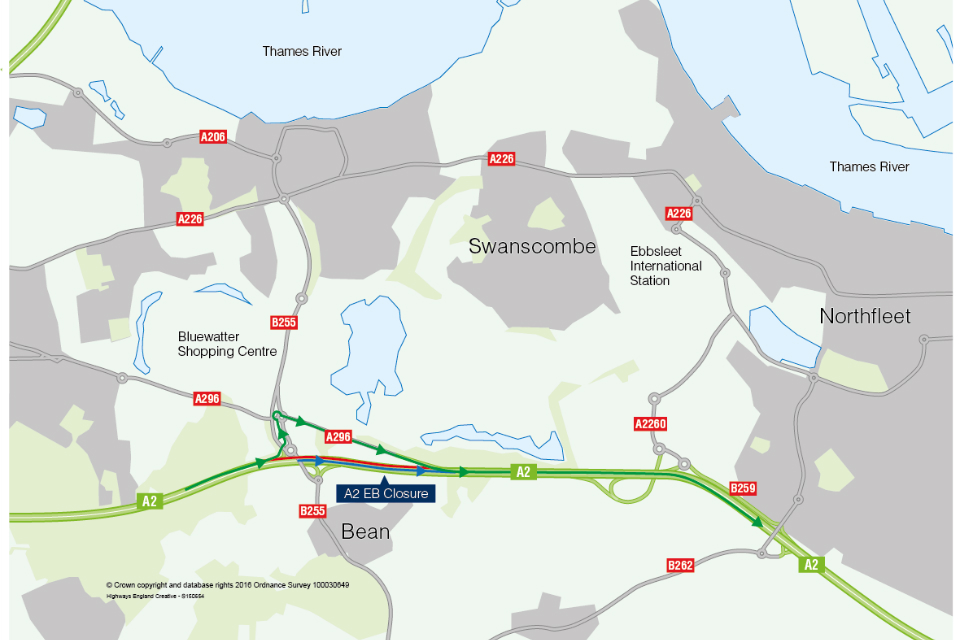 The coastbound A2 will be closed between the exit and entry slip roads at the Bean junction and a clearly signed diversion will be in place via the slip roads.
Traffic flow data from Easter Sunday in 2015 showed the peak flow was less than 5,000 vehicles per hour on this section for four hours, but for the majority of the day was below 2,500 vehicles per hour.
The resurfacing scheme started in February to improve journeys on the A2 between Bean and Ebbsfleet in Kent as the existing surface has reached the end of its life. It had been planned to take place overnight, between 9pm and 5am, but the working hours had to be condensed to start from midnight each night due to the high traffic flows in the evening. This meant that only 70 metres of resurfacing could take place each night and extended the original programme by a month.
Drivers are advised to plan their journeys and allow extra time if required. Long distance traffic is advised to consider using alternative routes such as the M20.
Highways England provides live traffic information via its website, local and national radio travel bulletins, electronic road signs and mobile platforms, such as Android and iPhone apps.
General enquiries
Members of the public should contact the Highways England customer contact centre on 0300 123 5000.
Media enquiries
Journalists should contact the Highways England press office on 0844 693 1448 and use the menu to speak to the most appropriate press officer.
Published 18 March 2016