Press release
Weekend bridge repairs to begin at rail crossings along A590 near Ulverston
Repairs to bridges crossing the Cumbrian Coast Rail Line at Red Sykes and Dykelands near Ulverston will begin on Saturday (1 November).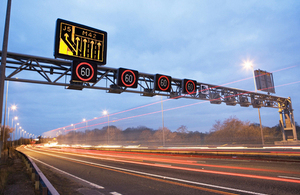 The £230,000 scheme will improve safety at the two bridges and reduce maintenance visits.
Highways Agency project manager Mark Mosley said:
Recent inspections of the bridges have identified areas of wear and tear.
We have previously removed concrete from the underside of the deck and from around the main girder and beams, and the purpose of this work is to make sure we have removed any loose concrete and to apply paint protection.
This is essential work, but we expect the disruption to drivers to be minimal due to the low traffic flows during times that work is being carried out.
Old concrete which has deteriorated over time will be removed and replaced, and the bridges will be treated with an innovative new protective paint, which will only require two coats and will therefore reduce time spent on the renovations and minimise disruption to drivers.
Work will take place overnight each Saturday night – from 10pm to 10am on Sunday mornings – for up to 8 weeks with the work completed before Christmas.
There will be single lane closures between Ulverston and Dalton in Furness, controlled by temporary traffic signals.
General enquiries
Members of the public should contact the Highways Agency Information Line on 0300 123 5000.
Media enquiries
Journalists should contact the Highways Agency press office on 0844 693 1448 and use the menu to speak to the most appropriate press officer.
Published 27 October 2014