Press release
Weekend and overnight carriageway closures for M6 bridge repairs in Lancashire
Work to repair a motorway bridge along the northbound carriageway of the M6 north of Preston will take place later this month.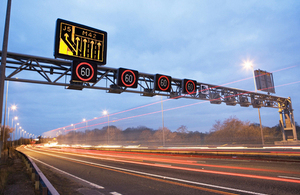 The £150,000 Highways Agency project will focus on the bridge carrying the M6 over Whittingham Lane at Broughton and will involve at least three overnight closures of the northbound M6 between junction 32 and junction 33 as well as two full weekend closures of the link road from the eastbound M55 onto the northbound M6.
The northbound section of the bridge structure is leaking and requires new waterproofing treatment to protect structural elements such as the main bridge beams.
The overnight closures of the northbound carriageway will take place over three nights between 10pm and 6am each night - on Sunday 23 March, Friday 28 March and Sunday 30 March.
The two weekend closures of the eastbound link road from the M55 onto the northbound M6 will take place between 10pm on Friday 21 March and 6am on Monday 24 March and between 10pm on Friday 28 March and 6am on Monday 31 March.
During the closures, clearly-signed diversions will be in place:
drivers already on the northbound M6 will leave at junction 32 and sent along the westbound M55 to junction 1 at Broughton roundabout where they can join the northbound A6, rejoining the northbound M6 at junction 33 at Galgate.
drivers seeking to join the northbound M6 from the eastbound M55 during the full weekend closures will need to join the southbound M6 instead, travelling to junction 31 and joining the northbound M6 from there via the junction roundabout.
when both the M55 link road and the northbound M6 are closed at the same time, anyone travelling along the eastbound M55 and seeking to join the northbound M6 will need to leave the M55 at junction 1 and use the northbound A6 to join the northbound M6 from junction 33 at Galgate.
Some other restrictions will be in place with the hard shoulder in use as a running lane ahead of and over Whittingham Lane bridge and a three metre width restriction in place throughout the works with wide loads needing to use the diversion via the A6.
Depending on the progress with the work, which is weather-dependent, it is possible that further overnight northbound carriageway closures will be required in April.
Highways Agency project sponsor Mark Mosley said:
This is important remedial work to renew waterproofing and prevent damage to the bridge structure. Drivers will need to allow extra time for journeys when the M55 link road and M6 northbound carriageways are in place.
More information is available on the Highways Agency's website
General enquiries
Members of the public should contact the Highways Agency Information Line on 0300 123 5000
Media enquiries
Journalists should contact the Highways Agency press office on 0844 693 1448 and use the menu to speak to the most appropriate press officer
Published 10 March 2014