Press release
Webb challenges industry to provide good value guarantees for pensions
Pensions Minister Steve Webb today laid down a summer challenge to industry that pension provision has to provide more certainty.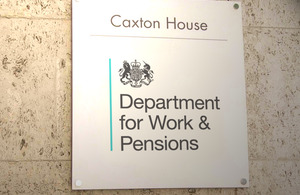 Pensions Minister Steve Webb today laid down a summer challenge to industry that pension provision in the future has to provide more certainty for people about what their pension income might be.  The Minister urged industry experts at an AXA conference today (Tuesday 3 July) ('Towards Optimal Pension Plan Design in Europe') to seize on the 'gap in the market' for innovative pension products which might include some form of cost efficient guarantee.
Steve Webb said:
I am convinced people have a huge appetite for certainty about their pension savings, and this demand will drive the shape of pension provision in the future. I want industry to innovate and think hard about this.

With the dawn of automatic enrolment the market is growing - so now is the time for pensions industry to look at the market gap in relation to affordable guarantees and provide the products consumers are seeking.

For example one end of the spectrum could be providing an affordable 'Money Safe' guarantee where the member would get back at least the nominal value of their contributions - individual, employer and tax relief. Another could be offering an investment strategy that reduces the probability of capital loss such as NEST.

The industry needs to move fast on this or be left behind.
Department for Work and Pensions (DWP) research 'Attitudes towards Pensions' in 2009 discovered 68 per cent of people, whatever their age or knowledge of pensions, said they prefer to play safe with their savings, even if higher risk investments could get them more money.
Later in the year the DWP will set out ideas for the kind of regime envisaged through Defined Ambition pensions - a new destination, providing a middle ground, moving on from pure DB and pure DC.
Ideas include:
Exploring how increasing the scale of pension schemes might create new opportunities for greater efficiency, different forms of risk sharing, investment strategies and guarantees.
Addressing member loss aversion and calls for greater certainty by exploring the scope for guarantees in pensions other than DB - for example utilising insurance, investment strategies, employers.
Exploring at the lower end of the scale how nominal guarantees could function to provide more certainty in outcomes.
Exploring how risk sharing, intergenerational and/or with an employer could be made to work.
Focusing on the needs of the customer and how far provision can be framed around a consumer segment averse to complexity and risk.
Published 3 July 2012