World news story
We will remember them
British Embassy Tokyo to participate in the Remembrance Day memorial service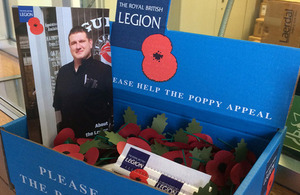 The British Embassy in Tokyo will be represented at the formal Remembrance Day Service held at The Commonwealth War Cemetery, Hodogaya,Yokohama on Sunday 10 November 2013 at 1030 hrs. The service is hosted this year by the New Zealand Embassy and is open for members of the public to participate if they wish. The Embassy will be represented by Ambassador HE Mr Tim Hitchens and The Defence Attache Capt. Charles Ashcroft.
The Remembrance service is to commemorate British Commonwealth and Allied personnel who lost their lives in the two World Wars of the 20 Century and subsequent conflicts.
Further Information:
Poppies will be on sale at the British Embassy main gate house, from the 28 October and British Consulate Osaka, The British Council , BCCJ, and the British School Showa and Shibuya campuses later in that week.
Published 30 October 2013