Water: World meets target on safe drinking supplies
The world has met its target to halve the number of people without access to safe drinking water, says the UN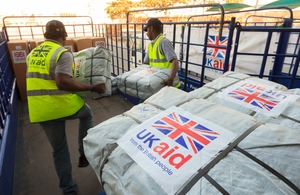 The world has met its target to halve the number of people without access to safe drinking water, says a report released by the UN today.
The achievement is part of Millennium Development Goal 7 - one of the eight internationally agreed targets to fight poverty and boost development by 2015.
It is one of the first targets of the Millennium Development Goals (MDGs) to be met, and means that more than 2 billion people now have better water than they did two decades ago thanks to new piped supplies and protected wells.
According to the report by the World Health Organization and UNICEF - Progress on Drinking Water and Sanitation 2012 - 89% of the world's population, 6.1 billion people, used improved drinking water supplies by 2010.
United Nations Secretary-General Ban Ki-moon said:
Today we recognise a great achievement for the people of the world. This is one of the first MDG targets to be met.

The successful efforts to provide greater access to drinking water are a testament to all who see the MDGs not as a dream, but as a vital tool for improving the lives of millions of the poorest people.
International Development Secretary, Andrew Mitchell said:
This is concrete proof that well spent aid can make a real difference to the lives of the some of the very poorest.

There is still much more to do. Millions of the world's poorest people still have no access to either a tap or a lavatory.

Providing clean, safe water and sanitation remains a top priority. That is why Britain has refocused its aid to areas with the worst access to clean drinking water, sanitation and hygiene.
Sanitation and water are not just MDG targets in their own right. They also contribute to outcomes in children's health, education and nutrition.
Diarrhoea is the second leading cause of death for children under five globally, killing more children than malaria, HIV/AIDS and measles combined. 10% of the total disease burden globally is attributable to lack of access to safe water, sanitation and hygiene.
The UK remains absolutely committed to improving access to clean drinking water, proper sanitation and better hygiene to many more people to come.
Britain's focus is on the countries that are the most off-track in terms of meeting the Millennium Development Goals.
By 2015, the Department for International Development will:
Give 15 million people access to clean drinking water
Improve access to sanitation for 25 million people
Improve hygiene for 15 million people
In particular, UK aid will support five new major bilateral programmes in Africa (Zambia, Zimbabwe, Tanzania, Malawi and Mozambique) in addition to the four countries in which Britain already has substantial programmes (Ethiopia, DRC, Sierra Leone and Nigeria).
Published 6 March 2012